Nemesis: Sub-Terra Development
---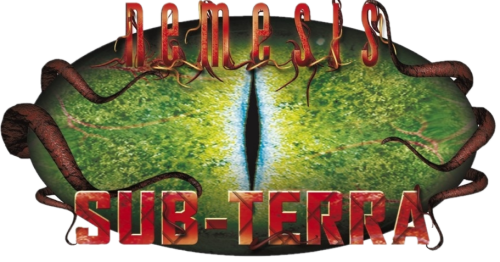 Manufacturer:
ABC Rides
Type:
Drop Tower
Location:
Forbidden Valley
Cost:
£4 Million
Track Height:
8m
Opened:
24th March 2012
Plans & Concepts
In 2011 the Lava Lump and other associated games on the old Dynamo ride site began to be removed from the park, and very soon construction fences appeared around the site and ground work began on the construction for Nemesis .
During Scarefest of that year, large banners proclaimed the imminent arrival of Nemesis: What Lies Beneath in 2012. Warning klaxons and the sound of falling rubble could be heard around the site and a huge military tank, later to be known as The Stag, appeared in Forbidden Valley.
Phalanx Control
The ride's main marketing campaign was focused on the Phalanx, an elite taskforce that had originally been introduced as part of Nemesis' marketing in 1994 but by 2011 had largely fallen into obscurity. For the new ride the park built upon Nemesis' backstory but with a focus particularly on The Phalanx, The Stag and the catacombs underneath Forbidden Valley, all of which were important to Sub Terra's plot.
During the campaign The Phalanx communicated directly with guests using the specially created Phalanx Control Twitter feed. Throughout the closed season Phalanx Control gradually revealed the backstory of Sub Terra, revealing information about the mission that has brought the Phalanx back to Forbidden Valley.
Construction Updates were also supplied through the Twitter feed, as details were released about the facility they were building in the park.
Marketing
As well as the viral marketing campaign focused on storytelling, the park also employed a variety of more traditional campaigns, which mainly focused on hyping up the rides scare factor of the ride, including a press release from the British Board of Film Classification that classified the ride with a 12A certificate, despite the attraction having no significant film element. Following a tradition started during the development of Thirteen, the park also 'hired' Jack Osbourne as the park new 'Director of Fear'.
For Easter 2012, Sub Terra's marketing took to the streets as part of the Fabergé Big Egg Hunt in London, which included a Sub Terra egg hanging in St Christopher's Place off Oxford Street. Elsewhere in the capital the park continued their campaign of fear by taking over one of the lifts in a London shopping centre, creating a 'bottomless lift shaft' to give shoppers a fright when they stepped inside.
The attraction's name was revealed in a video on New Year's Eve 2011, which was released at 18:18, to signify that Sub-Terra was a continuation of the Nemesis story 18 years later