In March 2016 Alton Towers gave the first indication that the next Secret Weapon (SW) will be built on the site of the former Flume ride, with large posters announcing a "Ground Breaking" new ride across Mutiny Bay. Here at TowersStreet we've rounded up all the key information from the planning application submitted in May 2016 (updated in August 2016), and provided a brief history of the Secret Weapon series.
SW8 – What we know
What do we know so far?
A planning application submitted to Staffordshire Moorlands District Council (SMDC) on 17th May 2016 confirms:
A wooden rollercoaster structure
A silent magnetic lift system
Themed enclosed sound tunnels, noise screens and tunnels
The first drop will be enclosed in a sound tunnel
Comparative noise assessments referred to in the plans confirm the manufacturer to be GCI
Construction will begin in September 2016 with a forecast Spring 2018 opening
Some existing buildings around the former Flume site will be demolished
A 140 second pre-show for 50 guests
The ride footprint will not encroach into the nearby woodland
Updated plans submitted in August 2016 show that the former substantial combined maintenance building, station and shop will now be smaller separate buildings (August 2016 L, May 2016 R):

Changes to the area include a new games unit and food kiosk, while the former Mexican Cantina and Flume photo booth will be demolished. Buildings are expected to have thatched effect roof tiles and weathered timber effects, many being single storey.
Ride layout as shown within the plans: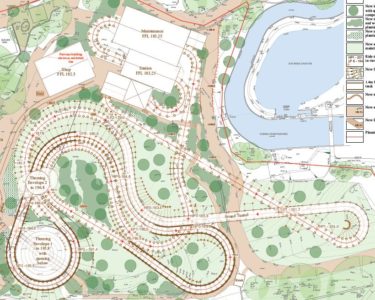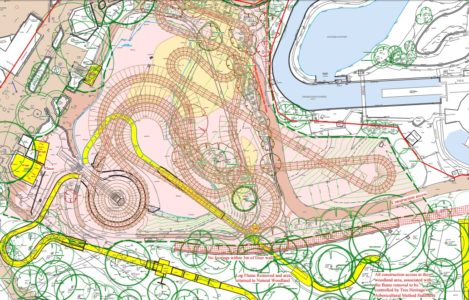 The plans indicate separate onload and offload areas along with a manned baggage store such as those featured on Th13teen and The Smiler.
What else do the plans say?
A more in-depth look at the plans shows us track elevations, air time hills and those hotly debated inversions (see our tab for speculation). The plans don't tell us exactly how high the lift hill will be, instead indicating the ride's high and low points in comparison to sea level.

How far along is construction?
Construction has been moving at a rapid pace throughout 2017, and we've been keeping out construction and planning gallery updated as often as we can. The lift hill topped out on 7th July 2017 and work has been progressing quickly throughout the site since. Click the link on the image below to check out the full gallery.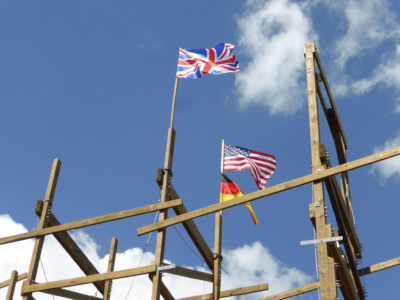 Speculation
Rumours, speculation and high hopes
As with all plans released, fans of the park will develop theories and speculation based on both what the documents say, and also hopes for the final product. Current speculation for SW8 involves inversions, a short dark ride section, and a launched lift hill. Remember, there's no confirmation of these points yet!
Dark ride section?
(Referencing the May 2016 plans) Dark ride sections have appeared on a number of coasters around the world, for example Blue Fire at Europa Park and also the wooden coaster Mammut at Tripsdrill. The track layout within the station/maintenance building (May 2016) shows a few turns which could accommodate a short on-ride show: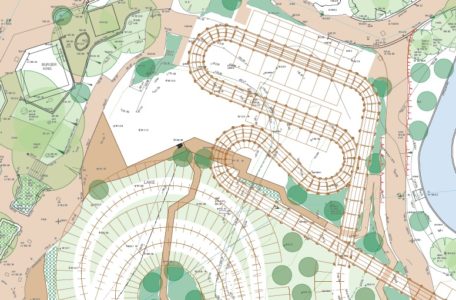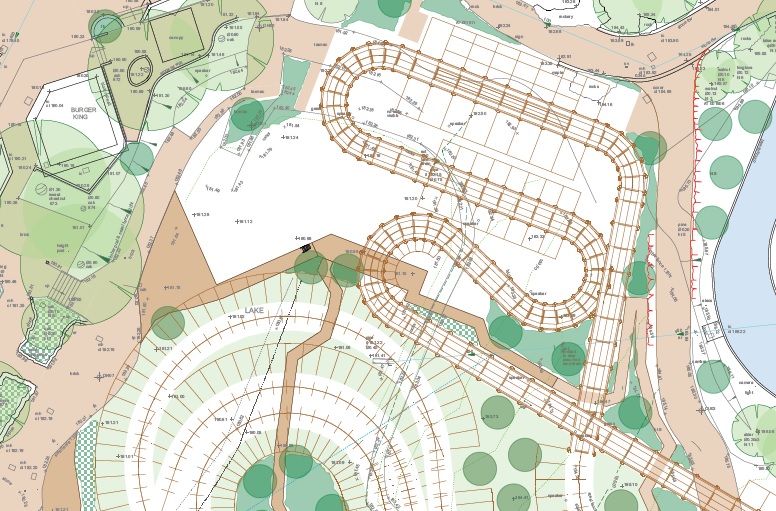 With the latest August 2016 revised plans, sections of the track are now outdoors and it is therefore unlikely we will see a dark ride section. We can but hope for a few theming items!
Inversions?
Speculation began when the plans appeared to show possible inverted track, with a support structure similar to inverting wooden rollercoasters currently in operation.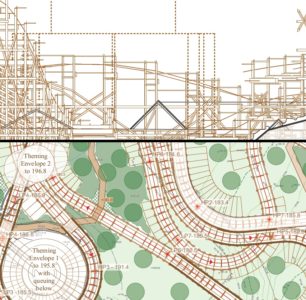 It has not been confirmed whether the ride will be aimed at families or thrill seekers, but an inversion would likely mean a thrill audience.
Launched lift?
Although not confirmed to be a launch, the plans do confirm that SW8 will feature a silent magnetic lift. Magnetic LSM launches are used across the world on a variety of rollercoasters to produce a launch, for example on the wooden coaster Lightning Rod at Dollywood. Whether the magnetic lift will be fast enough to constitute a launch, it is not yet known.
Secret Weapon Background
What is a Secret Weapon?
In the early 90's when Alton Towers was taken over by the Tussauds Group, John Wardley was tasked with designing a major roller coaster to help in the process of transforming the park from a collection of fairground rides in the woods, to a modern theme park.
His initial designs involved the use of a prototype roller coaster from Arrow Dynamics (who also built the Big One at Blackpool and Vampire at Chessington World of Adventures). The prototype roller coaster looked a bit like a missile so the theme was pitched around a "Secret Weapon". John Wardley made two different designs for this ride, labelled SW1 and SW2.
Eventually it was decided the ride wasn't what the park wanted and instead they worked with B&M to create Nemesis, and although the theme for this ride changed, the project was still titled a secret weapon and became SW3.
Since then every major roller coaster with the exception of Spinball Whizzer and Rita have been labelled "SW" during the design and construction phase until the name is chosen and announced. The next major roller coaster installation will be SW8!
What are the existing Secret Weapons?
SW1 – Arrow Dynamics prototype, never built
SW2 – Arrow Dynamics prototype, never built
SW3 – B&M inverted coaster – Nemesis (1994)
SW4 – B&M dive coaster – Oblivion (1998)
SW5 – B&M flying coaster – Air (2002)
SW6 – Intamin drop coaster – Th13teen (2010)
SW7 – Gerstlauer infinity coaster – The Smiler (2013)
SW8 – GCI wooden coaster – ? (2018)