Having just returned from my first ever theme park road trip abroad (unless you count sitting on the Paris ring road for four hours as a seven-year old trying to get to DLP [or was it still EuroDisney back then?]), this is my first stab at writing a trip report. I'm not much of a writer if I'm honest; the complete lack of organisation and structure within my messy ADHD brain is most certainly reflected in my writing, so if long-winded, rambling prose isn't your thing, feel free to bail now!
When I heard that the 2022 Spring Bank Holiday was being moved to give us a four-day Jubilee bonanza at the start of June, getting out of the country seemed a necessity. I'm no republican, but four days of flag-waving, Union Jack bunting, street parties and wall-to-wall patriotism on the TV just wasn't that appealing. On the other hand, the relaxation in Covid regulations and the replacement of my dreadful old Ford Focus in 2020 with a much nippier, fuel efficient Seat Leon made a European road trip a real option. But where to go?
I turned to my travelling companion to-be and seasoned pro
@John
for advice on which parks could be managed in the time, and we decided on Efteling and Phantasialand. I've had Efteling on my wishlist for years and wasn't able to make the trip in 2021, plus FLY and Taron were gaping holes in my embarrasingly short list of coaster creds. My long-suffering husband was roped in to help with the driving and to pretend to be an enthusiast for the weekend.
Keen to avoid the truly dreadful M20 on the way down, we booked the Harwich-Hook of Holland overnight ferry for Thursday evening which would get us into the Netherlands for 8am with just an hour's driving to Efteling. In theory. On reflection, playing cards and drinking wine in the bar until 1am wasn't the smartest choice given the extremely unwelcome wake-up call at 5.30am of overly cheerful music and fake bird sounds. Disembarking was a real fiasco; several vehicle owners ahead of us on the car deck had clearly drunk more wine than I had and hadn't bothered to return to their vehicles by 8 o'clock, so by the time we were able to move they'd already unloaded all the upper decks and we were one of the last vehicles off the ferry. Then followed a truly miserable queue for two passport control lanes, meaning we didn't actually leave the ferry port until about 9.15am. Still, we were on our way and the sun was shining. Dutch motorways are not fast, however, and Google Maps' 1h04 estimate turned out to be wildly optimistic. But I did get my first glimpse of a country I've actually never before visited, so that's another one in the bag in terms of country creds.
We arrived at Efteling around 10.45 and headed to the Bosrijk holiday village where we'd booked on-site accommodation for one night. I thought this was a pretty good deal as it gave us a large 4-bed family room in the Landhuys complex plus 2-day park tickets for all three guests. The path to the park entrance (the hotel entrance for Bosrijk is just to the right of the House of Five Senses) through lush pine woodland was rather delightful, although the novelty wore off a bit after the fourth or fifth time.
My first impressions of Efteling park were slightly marred by the huge amount of building work taking place at the entrance and the fact that Aquanura had been completely drained, in preparation for the new in-park hotel. But the plans looks spectacular and once it's all finished I'm sure it will look amazing. The walk up Pardoes Promenade was really magical and I remembered what it felt like to be seven years old again and walking up Main Street USA (except this street was arguably nicer). This really is a beautiful park, with so much care and attention given over to small details, such as the jester-shaped lamps along the promenade and in the queue lines for Symbolica. And just look at this cash machine! It even has its own elaborate fairytale involving an old alchemist and a magical golden key.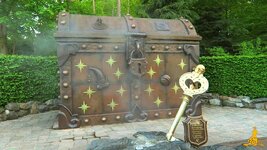 Image Credit:
An Englishman's Guide to the Efteling
(Picture nabbed from the internet because I was too mesmerised by the day-old ducklings in the aligning ponds to bother taking photos!)
[As an aside, I thought it might be amusing to compare this with one of the cash machines at Alton Towers, which charge you £1.95 for the privilege of using them. Lovely isn't it?]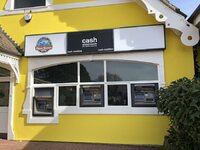 Image credit:
@Dean8001 on Twitter
As we'd well and truly missed the boat on ERT we headed straight to Polles Keuken for a long-overdue coffee-and-pancake breakfast. As a coeliac, getting food in theme parks is never particularly straightforward so finding out that they could indeed do gluten-free pancakes was a real bonus. You would never guess it from looking at the menu though; allergen info is unfortunately non-existent throughout the park - something that clearly needs to be addressed. Polles Keuken is more than just a cafe, it's an attraction in itself and worth visiting even if you're not eating for this piece of pure theatre:
It wasn't about 12.30pm that we remembered this park does actually have some rides in it and we should probably get up and go and do some of them...