Favourite Ride

Steel Vengeance, Cedar Point
I just wanted to post some of my thoughts after a trip to Oktoberfest yesterday. The event has certainly improved for the third year running in the majority of ways:
8 different shows (3 in the Bierkeller, 5 on the Main Stage)
New roaming characters including the Clockmaker.
The roaming entertainers really do make this event what it is - they galvanise the crowd. Herr Gone (with the horn), the Monks, the Clockmaker - these and more are great! Food options are reasonable, although I don't think there's as much variety. The bratwurst stand is the same price as last year (thank god) at £8. The Hog Roast stand is daylight robbery, though - at £9.50 for a baguette and £9.00 for a roll. There is Schnitzel though now! The Chicken & Chips stand looked quite poor, however.
As has been the case through the past few years, all of these stands are brought in and not run by Alton Towers. I don't really get why the resort don't take all of this on themselves, given the opportunity for revenue.
Beers are as follows:
Spaten £6.00
Franziskaner Weiss £6.00
Camden Pale £6.00
Stella £5.50
MAP discount is only available at the Bierkeller.
Show breakdown:
MAIN STAGE
Singalong Show (much improved this year, with more use of backing dancers and Darwin the Dodo)
Darwin's Show (designed for younger guests, but still tolerable for adults due to the music)
LUNAFALL Party Band (good, although not sure they quite hit the spot by 6.30pm)
The Oomparty Band (excellent, but could just do with a couple of traditional German songs mixed in) - I would also like to see 1 encore at the end! It all suddenly just finishes.
Lebhaft Tanzen Show (fantastic)
BIERKELLER
Bierkeller Oompah Show - Robert Burton is back and is great. Traditional German experience.
Oktoberfest Singalong Shindig - exactly what it says on the tin. A singer doing party/German songs.
Gittarenpatei - Singer/guitarist. Nice in the background.
SHOW TIMES:
7pm ride close sees the Main Stage till 8pm and Bierkeller till 6pm
6pm ride close sees the Main Stage till 7pm and the Bierkeller till 6pm
5pm ride close sees the Main Stage till 6pm and the Bierkeller till 6pm
4pm ride close sees the Main Stage till 5pm and the Bierkeller till 4.45pm
Overall - the event is brilliant, with a fantastic atmosphere. I recommend it to anyone who likes to see the Alton ambience at its very best.
6 to 8pm on the lawns is the best time.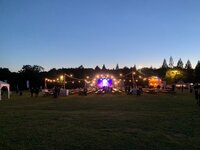 Last edited: