Drayton Manor
From TowersStreet Wiki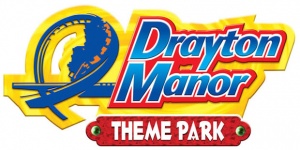 Drayton Manor is a strange theme park that lives in the shadows of Alton Towers, just outside of Tamworth in South Staffordshire, and is known to be home to some of the most masochistic rides in the United Kingdom such as Shockwave and G-Force.
The park is well known for the range of ghetto-era rides and their former cunning choice of leaving rides to rot before building a new ride on top, as well as their stunning idea to be surrounded by a car park with mismatching area themes. None of this however deters the General Public from visiting as it's all normal to their eyes.
Drayton prides itself in being a park with "firsts" such as having a Verkoma ride, a Maurer Söhne that hasn't committed homocide, an Intamin rapids that has, randomly placed sponsorships (i.e. Arriva) and a Intamin Teacups themed around beers and boobs.
The theme tune of Drayton Manor appears to be Jupiter by Gustav Holst, in an attempt to classy up the park for the Resort title much like Towers but oddly enough it seems to do the trick.
History
There was once a manor by a lake.
People with sadistic intentions knocked it down and stuck a few rides by the lake.
Drayton Manor was aptly born.
Rides and Attractions
Rollercoasters
NEW FOR 2017 Hot Wheels: Da Ride
Gruffalo Mountain Coaster
G-Force - No longer with us, now resides in limbo with Slammer, Sub-Terra and Loggers Leap
Shockwave
Troublesome Trucks
One of da S&S coasters that will compete with Mackpoo and SWood (The last one is unsafe)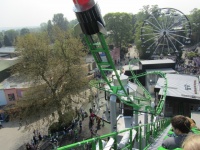 Thrill Rides
New for 2014 Air Race
Apocalypse
Bounty
Maelstrom
Pandemoniun
Water Rides
Pirate Adventure
Splash Canyon
Stormforce 10
Family Rides
Drunken Barrels
Excalibur
Chicken Nuggits Breadcoomb Shoot-Out
Jolly Buccaneer - Sometimes found at Chessington
The Flying Scotsman
The Haunting
Kids Rides
Cranky's Drop Tower
Crazy Bertie Bus
Diesel's Locomotion Mayhem
Harold's Heli Tours
Jeremy's Flying Academy
Lady's Carousel
Rockin' Bulstrode & Sodor Docks
Sodor's Classic Cars
Vintage Carousel
Transport
Chairlift
Knapford Station
Misc
4-D Cinema
Amusement Arcade
Crazy Golf
DinoTrail
Drayton Queen Boat
Emily's Adventure Play
Thomas and Friends Exhibition
Zoo