Chessington World of Adventures
From TowersStreet Wiki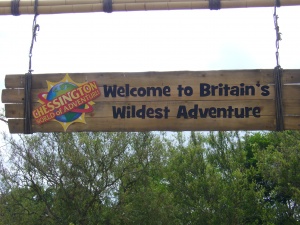 Chessington World of Adventures is a Southern theme park and zoo in England, which has been proven to be a much better theme park than Thorpe Park, Legoland and Paultons Park due to the consistent lack of chavs, actually good rides and for being developed in the late 1980s by John Wardley. Chessington is widely known for it's stereotypically themed lands such as Mystic East, Forbidden Kingdom, Mexicana, Pirates Cove and to a large extent, Transylvania. This is typically highlighted by theming, music and ride announcements.
History
Before the park existed, the Burnt Stub Mansion had been there for 3,000 years. It's not very interesting so that point won't be developed. Sometime later, a man found potential in the empty land in Chessington and decided to build a zoo with a child scaring facility in order to gain lots of monies. Soon everybody was flocking to Chessington because of the animals and to potentially scar their children for the rest of their lives.
A few years after the park was bought by Tussauds, when everyone had seen the animals at least 600 times, the park was deemed disinteresting. At this point, management called in John Wardley, hoping that he would take a look around and make a miracle of the park. Fortunately, he did, and the heavens rejoiced!
And in just six days, God created The Fifth Dimension, Vampire, Professor Burp's Bubbleworks and many other awesome rides and themed areas. The public once again flocking in large numbers, proving God's work an excellent success. Sadly though, The Fifth Dimension was changed into Terror Tomb in 1994 (Which thankfully had Wardley contribute towards so it was still decent), and then into Tomb Blaster. Bubbleworks was rethemed from a pop drink factory into a Cussons Product Whore factory.
Modern Day
The most recent land added to Chessington is Wild Asia, based around a wild form of Asia with snakes and pretty birds to make it more 'exotic'. In the centre of this area are two enlarged Arboks, locked together forever. These Pokemon are forcefully attached to a Disk-O coaster, which rolls up and down painfully on their backs. Unfortunately, many believe this is a rollercoaster when in fact it is not, and it is simply a ride that happens to be on a track.
Currently, in the Vampire queueline, there stands a "Evil Satan Minion National Park", situated next to the very popular mid-queue shop. This is the reason that it takes so long to board Vampire. In order to keep minion numbers down, Chessington have situated clones of Abdab in cloaks from the previous Terror Tomb ride around the queueline, in the hope of frightening them back to their spawners.
"We're Better Than Thorpe Park!"
As amazing and spectacular a park Chessington is, customer service can be poor, though not as poor as the service at Thorpe Park, which is indomitably terrible. However, at Chessington the staff, ride hosts and operators brighten up the day by having an amusing amount of banter and lighthearted conversations with the visitors, unlike at Thorpe Park, where they stand around doing nothing.
A good example of this customer service is on Rameses Revenge (Better known as Ripsaw Ripoff or Rammeh), where a German ride op makes each ride a little faster and much more water sprayed whenever Alton Towers or Ripsaw is mentioned, thus creating banter-to-extent-abuse with the customers.
And yet it is still much better than the customer service at Thorpe: WIN, yes?
Current Rides and Attractions
Roller Coasters
Thrill Rides
Family Rides
Kiddie Rides
Berry Bouncers
Flying Jumbos
Griffon's Galleon
Jungle Bus
Sea Dragons
Tiny Truckers
Toadie's Crazy Cars
Water Rides
Misc
Lorikeet Lagoon
Peeking Heights
Temple of Mayhem
Zoo
Former Rides and Attractions
Action Man HQ
Professor Burp's Bubbleworks (Technically)
Rodeo
The Fifth Dimension
Notes
It is intriguing to notice that there is a fantastic lack of chavs at the park, which as we all know, makes the park so much better in terms of fellow visitors. The reason behind the lack of 'brapping' and 'innits' is because chavs are far too inferior to the superior Chessington, so their presence would be ultimately exterminated if they dared to enter.
Wasps are not inpenetrable to Chessington when it comes to the hot summer months. Just bare that in mind.