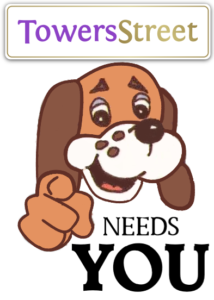 Here at TowersStreet we love sharing old photos and videos from the park but we need your help to do that.
If you're looking for something to pass the time during Lockdown, why not take a rummage through your old albums and send us your old photos from days gone by.
Some of the most interesting photos we've come across were taken on random days out in the park over the years. So whether it's a snap of you taking a spin on The Spider, grabbing a hotdog at Nemesis Nosh or a video of your nearest and dearest taking their first ride on The Haunted House, we want to hear from you!
Top Tip: if you are able to scan you photos that's great, but creating a digital copy can be as easy as using the camera on your phone to take a photo of the physical photograph – just try to get it in focus and relatively straight.
If you have any photos or videos you'd like to share with us, the quickest and easiest way is to share it with us through our handy google form:

Don't have a Google account? Feel free to send us submissions via Facebook Messenger or by e-mail at

. Please also drop us an e-mail if you have any questions or are unable to submit photos via any of the above ways.
What you can expect from us: By submitting your photos or videos to us you are giving permission to display the content on the TowersStreet community. This includes the website and TowersStreet Talk along with social mediums such as Twitter and Facebook.
Whilst we will consider all images submitted to use we cannot guarantee if or when your image will appear on our site or social media. This is especially true for rides that already have large photo albums (there's only so many images of Rita we can put online). To increase the odds please submit unique photos or photos for attractions which only have a handful of images in our galleries.
If you've asked us to credit you on the photo, your credit will appear by the photo in our main gallery, we may however use the photo elsewhere in the TowersStreet community without a specified credit. For larger numbers of images used we will also include a credit on our Links and Thanks page. If you spot your image in our gallery without the correct credit, we're sorry about that; mistakes do sometimes happen – let us know and we'll add it on.
We won't offer your images to any other third party website or business. If we happen to receive a request from someone to use your images, we'll contact you and leave it up to you whether you want permission to be granted or not.