It may have taken a while to get going, but recent weeks have seen an explosion of SW7-related news and information, so we're here to give you a round-up of things you may have missed.
SW7 Goes Vertical
It seems like a while ago now, but TowersStreet exclusively reported that vertical construction for SW7 began on the 7th December. This was the first major milestone for the theme park's latest attraction, as speculation mounted that construction had slipped behind schedule. Since breaking this news, building work has seemingly gathered steam and we now have much more which we can share about the ride and its related developments!
First Pictures of Track Construction
Forum member Rob has kindly posted the first pictures of constructed track on our Talk forums. These pictures, exclusive to TowersStreet, show what appears to be a part of the interlocking cobra roll element being constructed, along with the turn and drop from the station into the pit below. You can see the rest of the pictures over on our SW7 forum.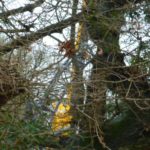 Is the 'Washing Machine' all washed up?
Onto more speculation and rumour now, this time concerning the widely rumoured 'washing machine' style element. This was said to involve the ride car and attached track being rotated 360 degrees multiple times in order to achieve an inversion record. The 'washing machine' has been subject of much discussion throughout the enthusiast community and our forums since it was first mentioned.
However, the information TowersStreet has received points not just toward this rumoured element not making an appearance, but also to 'trick track' not featuring in the ride altogether. In addition to the information we've received, there's so far been no sign of any track which would point to such a feature existing. Although we don't have official confirmation, we trust the information we have to be reliable enough to say we will not see the element in the finished attraction.
Resort set to #getcorrected
Moving on from the ride itself, the Resort hotels are set to #getcorrected in 2013 after we exclusively revealed they will feature SW7 themed rooms. These rooms are set to be the first thrill-orientated rooms since the Oblivion room was removed in 2006. It will be interesting to see how these shape up and whether they will follow the dark and sinister theme of the ride which has been hinted towards in planning documents and during Scarefest at the end of 2012.
TowersStreet Christmas Giveaway
Do you like the sound of those new hotel rooms? Well, now's your chance to win a stay! TowersStreet launched a very exciting SW7 giveaway this week and the competition will give one lucky winner (and three friends!) the chance to stay in the new SW7 rooms!
That's not all though. You'll also get free entry to the theme park for your group, free Fastracks and an exclusive behind-the-scenes tour of the new ride itself! If you haven't entered yet then make sure you visit www.towersstreet.com/competition today and check it out… What are you waiting for?
There's more to come
With Christmas fast approaching, we expect construction and information to slow over the next few weeks. It's expected marketing will step up a gear as the new year kicks off, and opening day in March gets ever closer. If you need your adrenaline fix in the meantime, our forums feature a wealth of rumours, speculation and news – not just about Alton Towers but from theme parks and attractions across the globe.
2013 and beyond is set to be a very exciting period in the history of the resort. As always we'll also be here keeping you all updated with news and features on our website, on Facebook and Twitter.
There's just a week to go before Christmas, so from the whole team at TowersStreet we'd like to wish all our readers a very Merry Christmas. The last 6 months have been a 'roller coaster' (we hear you all groaning – sorry!) to say the least but we're all absolutely astounded by the support we've received – so thank you to each and every one of you. We're all really excited about what's to come next year, as we continue to develop your premier Alton Towers guide.