Monorail Development
---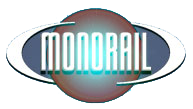 Manufacturer:
Von Roll Holding AG, Allot & Lomax, C.W.A
Type:
Monorail Automated People Mover
Location:
Towers Street
Cost:
£15 million
Track Length:
2800 metres
Track Height:
9 metres
Opened:
13th August 1987
Construction
The Monorail originally operated at Expo 86 in Vancouver. After the Expo closed in October 1986, the Von Roll Mark II Monorail was shipped to Alton Towers, where it was reconstructed through 1987 ready for its grand reopening in August.
The ride gained the name the Silver Ride Monorail and each of the trains was named after a planet. William Shatner, the original Captain Kirk, oversaw the opening of the ride, even taking the opportunity to captain his own Monorail train. Shortly after the opening ceremony he was also joined by George Takei, who missed the ribbon cut due to a navigation error.