The Haunted House Development
---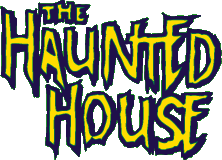 Manufacturer:
Mack Rides
Location:
Gloomy Wood
Opened:
31st March 1992
Plans & Concepts
The Haunted House was designed by John Wardley and Sparks Creative Services.
A primary concern of John Wardley in the design process was to create a sense of surprise as guests encountered each scene for the first time. Most common theme park dark ride system at the time utilised a never-ending conveyor of cars (known as an omnimover). The problem posed by this set-up was that most surprise elements were lost as riders in one car could see what was happening to the riders ahead.
The answer to this design challenge came in the form of a unique transit system developed by MACK Rides , which combined the benefits of continuous loading in the station with the added ride experience of moving along alone in the dark. The new ride system was incredibly complex (even by today's standards) and caused quite a few headaches during development to get it working properly. Because of this it is still to this day the only one of its kind in the world.
Marketing
In the lead up to ride launch The Haunted House was promoted with watercolour style key visuals depicting various scenes from the ride, including the Trommel Tunnel, the Ghost Corridor and one of the demons from the Grand Hall.
Once the ride had launched the promotional material was supplemented with a photographic key visual, featuring the Lunatic, Statue of Death and a Screaming Wall from the swamp scene.
In 1993 the original key visual was redesigned to match the cartoon style of the park's new promotional material. Interestingly, despite the Ghost Corridor having been removed by this point the Ghost continued to feature as part of the updated promos.