The Carnival of Screams
This sinister circus pitched its big top at Alton each Halloween for four scary seasons between 2010 and 2013. With a giant clown's mouth playing entrance to a forbidden fairground beyond, there were many twisted tales to tell.
With distorted Toyland Tours music a chilling soundtrack to the creepy clowns and their sidekicks, there were many star characters such as Kumba the Killer Gorilla for 2010, the Living Dummy for 2011 and Jack Nife for 2013,
The Toyland Tours music wasn't the only piece of nostalgia to return, with several former props and set pieces from the park's former kids ride making a reappearance alongside new features such as a trommel, mirror maze and marionettes. Each year saw slight changes to the layout as it moved around the park, with a tweaked storyline and a fresh set of characters.
Attraction History
The circus first rolled into Alton in 2010 as a replacement for the retired Field of 1000 Screams maze. In it's first year the big top popped up in the woods adjacent to the Boiler House near the Alton Towers Hotel, sharing it's space with The Boiler House, but this didn't satisfy the Killer Gorilla or his friends.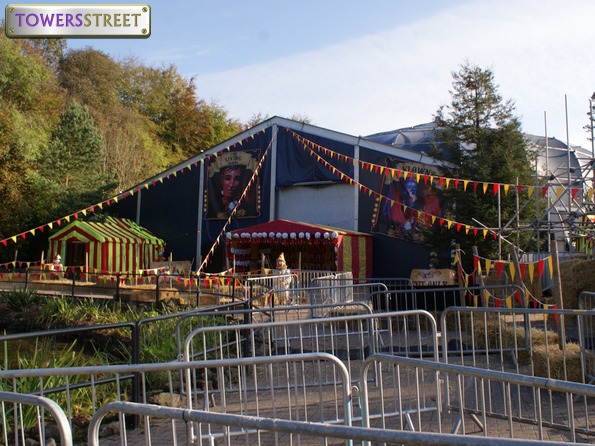 For 2011 the carnival moved inside the park itself and into the old Black Hole tent in X Sector, which it once again shared with Boiler House. Unfortunately following developments by the Ministry of Joy, the clowns' time in the Black Hole tent was short-lived, forcing the show out of the X Sector for 2012, and into the nearby Goal Striker unit.

For the maze's final two years it took over the area formerly used for the Zombies: Scare Zone near Adventure Land. The final year of Carnival of Screams was 2013 and saw the maze replace Terror of the Towers as Scarefest's free maze. In 2014 the fairground was replaced by the Scary Tales ScareZone, which also featured some set pieces from the carnival making a reappearance.