---
The Ultimate Sleepover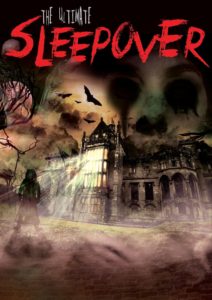 In 2014 the resort's overnight scare experience moved on park as the Towers themselves played host to The Ultimate Sleepover.
For those brave enough to take part, they were offered the chance to to sleep in the ruins as part of a staged 'ghost hunt'. The plot revolved around fictional paranormal investigators, The Extreme Haunt Team, who had arranged an overnight ghost hunt in the ruins.
The evening started with dinner at the Swiss Cottage in the gardens where guests were introduced to the mildly dysfunctional ghost hunting team and their plan for the evening. An ominous interruption partway through the meal also might just hint that everything might not be as straight forward as they seem.
The evening then moved into the Towers, where the ghost hunt got under way giving guests the chance to explore parts of the ruins after dark. The main act started however after guests had retired to bed and the lights had been turned off. Inevitably the actions of the Extreme Haunt Team had summoned a terrifying paranormal entity which stalked the team through the night until the early hours when they were finally able to put it to rest with the help of the guests.
The Ultimate Sleepover added a new twist to the traditional scare room genre and gave guests a unique opportunity to sleep in the ruins themselves. That opportunity however was shortlived as the sleepover did not return the following season. In 2015, the park instead turning to Sub-Species for their late night offering with Operation Lockdown offering an after hours locked room experience instead.