Ride Experience
In a scene reminiscent of your worst apocalyptic nightmares, your only hope to survive is along an abandoned service road in a forgotten corner of Alton Towers. The area is littered with crashed cars, vans and emergency service vehicles abandoned by their owners as they escaped from the zombie hoards.

To navigate this pathway seems easy enough despite the obstacles... just so long as you don't meet any of the inhabitants of the local area in zombie formation. If you do you could expect them to follow you, block your way and snarl a lot, but don't worry in typical zombie fashion they don't move quickly!
If you can make it through the infection area, at the end of the experience the was the obligatory de-tox tent, where you can be decontaminated by the park's friendly (and hopefully disease-free) medics.
Attraction History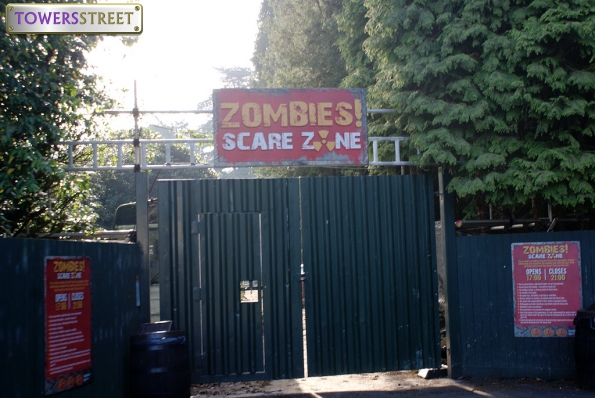 Making its début in 2011 opposite Adventure Land this new attraction was the first time a Scare Zone had been attempted at Alton Towers and proved to be an excellent new addition to the Sacrefest line-up.
Opening up a previously unused area of the park as an elaborately decorated pathway with actors scattered throughout, the Scare Zone was generally less scary than the mazes. Zombies! therefore acted as a great step-up attraction if you were unsure if you are brave enough to do the mazes.
Despite being all new the attraction contained nods to the past, most notably by including the bus that was once parked at the heart of Field of 1000 Screams.
After one year near Adventure Land the zombies were on the (slow and shuffling) move to make way for Carnival of Scream. When the attraction returned in in 2012 it was now located in an old service road near to Dark Forest and accessed near the Towers Archway. Despite its move the format of the attraction remained largely unchanged throughout the rest of its years.

Zombies! Scare Zone lasted until 2014's Scarefest. In 2015 the area was no longer used for Scarefest and instead Dark Forest became home to Nox Infernus, which used the area around Rita's tunnel. In many ways however the legacy of Zombies! lived on with the new Dark Apocalypse scare zone, which saw an undisclosed virus spread across Forbidden Valley.