In X-Sector
With no seatbelt and no harness, let gravity take control on this classic ride. Climb into your cabin and soon you'll be soaring through 360 degrees over X-Sector with the help of a hydraulic arm!
In 1998, when Alton Towers opened X-Sector, Enterprise was deemed a worthy support ride to operate alongside Oblivion. Nestled within the final turn of the coaster, Enterprise offered a suitable and rather photogenic finale for the world's first vertical drop roller coaster
During its last years of operation, it was not unusual for the ride to have an extended closed season, as it was one of the final rides to receive its winter maintenance. In preparation for The Smiler, in 2013 Enterprise received extensive maintenance work, with several components replaced by newer parts alongside a new paint job.
Enterprise was last seen publicly running during the Run Alton Towers event in 2021. For the majority of the 2022 season, the ride sat partially dismantled with the gondolas removed and stored elsewhere. On 4th October 2022, the park confirmed via Twitter that the ride was 'not at our resort anymore'. The ride still currently features on the Alton Towers website but does not feature on the mobile app. The park's map still features an image of the ride, but the ride's name has been removed.
In Festival Park
Enterprise was first introduced to the park in 1984, as part of an expansion of Festival Park (now Dark Forest) to help absorb the crowds drawn by The Corkscrew. It operated at the far end of the area near the gardens and, when it first arrived at the park, the ride was much more colourful than we know it today, sporting a bright white and yellow colour scheme.
It was one of several 'trailer-based' rides that were added during that period, which made the ride rather mobile. Indeed, before leaving Festival park, the ride was relocated onto the former site of the Spider in 1993, where it operated through to 1997, when it was relocated to X-Sector.
It was the final ride to operate on the site that is now home to the lockers in Dark Forest and to this day remnants of its old queueline can be found in the woods beyond.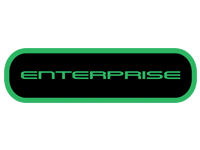 Attraction Stats
Timeline
1984
March 1998
14th November 2021