Attraction Experience
Journey into the world of Treetopolis as you join Tree Fu Tom in his Training Camp.
It takes a lot of work to become a Tree Fu Master, but Tom and all his friends are here to help young guests master the skills they need to make it around this daring forest assault course. Before you venture too far, you'll want to visit Spell School at the heart of the Training Camp, where you might even meet Tree Fu Tom himself as he guides you through some basic Tree Fu.
Once you've learnt the moves you need, it's time to head out on an adventure to try out your new skills as you visit Tom's friends in the various areas of the Training camp. It is hard to miss Zigzoo's Boat House as it rises majestically in the centre of the training camp, where it has been moored so guests can climb aboard before splashing down the emergency chute. Or if you prefer to go underground, why not visit Squirtum's Sap Caverns, and discover what adventures lies deep within these subterranean tunnels or climb overhead to see what you can see.
Though if it's an aerial adventure you are looking for, perhaps Twig's Treetop Adventure is more up your street with a forest's worth of vines and creepers to swing and climb on until your heart's content. At the other end of the Training Camp, if you think you're a really Tree Fu Master, why not prove your skills by taking up Tom's Leafboard Challenge and see if you can soar high over the area aboard this very special craft.
And if your little Tree Fu Master's still aren't worn out, at the back of the training camp you'll find Ariela's Ranch, where she's looking for a Tree Fu hero to help her power her windmills to keep the ranch going! With such a wide range of activities to have a go at, you'll soon be doing Tree Fu moves that you didn't even know you had in you.
Attraction History
The Tree Fu Training Camp opened in 2014, on the site formerly occupied by the Dung Heap adventure playground. Most of The Dung Heap was removed during the redevelopment, but some elements of Cobweb Capers remained as part of the Training Camp.
Originally Tree Fu Tom also had a show in Big Fun Showtime and a themed hotel room in the Alton Towers Hotel, but these were discontinued in 2018 and 2019 respectively.
By 2021, Tree Fu Tom was no longer airing on CBeebies and rumours about the attraction began to circulate construction markings and equipment started appearing near the ride. As soon as the season ended, construction walls went up around the playground ready for redevelopment.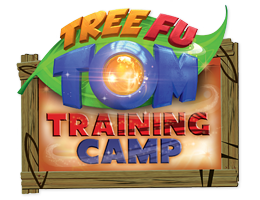 Attraction Stats
Timeline
24th May 2014
7th November 2021