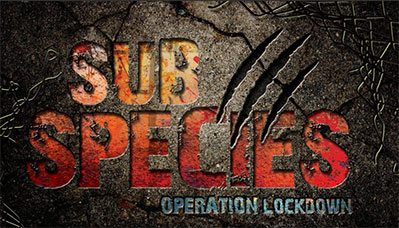 Alton Towers have revealed a brand new extreme maze for this year's Scarefest event. Sub Species: Operation Lockdown will be a 2 hour escape room experience which will take place after the park closes between 10pm and midnight.
The maze will feature a theatrical immersive story, and groups will need to complete a series of challenges throughout the maze. Among them will be one of three escape rooms, with the aim being to destroy the alien species and ensure 'you and the rest of humanity survive'. Guests will go through the maze in small groups, who will need to work together as a team to get through the maze.
The storyline for the maze is a follow up to the stories of Nemesis, and it's more recent sister attraction Nemesis: Sub Terra:
"In 1994 a government organisation known as The Phalanx, tasked with protecting the world from unknown threats, took on their most high profile case ever – to control the Nemesis creature and contain those that served it to the underground. Now, this post-apocalyptic, sewer dwelling community has been infested by a species from another world. The Phalanx have been called upon again to destroy the threat and they need you to join their ranks; to become an Operative and to help battle the latest threat to life as we know it. Join The Phalanx on their latest mission and take on a series of challenges to destroy the alien species and ensure you and the rest of humanity survive."
There are limited dates, and very limited spaces available for the maze, and prices start from £99 per person. Alton Towers are offering a 20% discount for Annual Pass Holders. The resort have kindly offered a number of enthusiast sites, including TowersStreet early access to tickets from today, before the tickets go on general sale on Saturday. If you'd like to book, call the resort on 08712229938. Check out the leaflet for full details.
Scarefest news incoming?
Marketing for this year's Scarefest event also seems to be starting to ramp up, with the @PhalanxControl Twitter account tweeting this morning. The account, which had not tweeted since the year Nemesis: Sub Terra opened back in 2012 posted this morning stating "Contact received from @altontowers – logged at 10:39 – status:investigation required. Stand by for further updates…".