With schools heading back from their Summer break and Scarefest preparations ongoing, check out our roundup of what's been going on around the resort.
Smiler work continues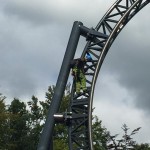 Earlier this week, track checks seemed to be taking place on The Smiler, with workers seen climbing the track and conducting inspections throughout the route of the ride. Since then, engineers have been spotted working around the ride area, with some prominent changes being noted.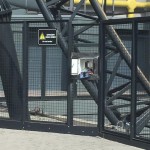 A number of new boxes have been seen around the course of the ride, which appear to be control panels. Presumably these are similar to those which were installed on Spinball prior to it reopening following The Smiler's incident in June. The panels were installed on the ride's 'block brakes'  – a safety feature of multi-car rollercoasters which is intended to stop a car if the next area of track in front of it are not clear. Similar changes were also implemented on some of Merlin's other multi-car roller coasters at Thorpe Park and Chessington.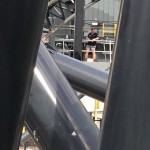 Following June's incident, many press outlets regularly speculated that the removal of The Smiler was a possibility, and indeed it was an option Merlin would refuse to confirm or deny. However, the addition of these panels around The Smiler would appear to point to the ride almost certainly reopening at some point in the future.
News of the changes prompted a huge amount of speculation on our Facebook page and forums, however there has been no official word from the resort on any timescale at present.
Forbidden Valley Changes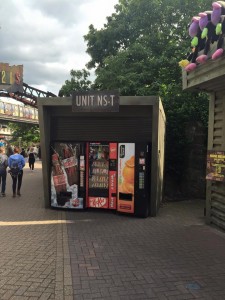 There's also been some further changes in Forbidden Valley this week. Way back when Nemesis: Sub-Terra opened in 2012, 'UNIT NS-T' opened as an additional small retail outlet just down the hill from the ride's entrance. The outlet was short lived however, and was changed to a vending machine hut shortly after.
The unit was briefly reverted back to a retail outlet a few weeks ago, however this week it has been again switched back to a bank of vending machines. Meanwhile, Nemesis: Sub-Terra remains closed for technical reasons. Despite briefly reopening for a short time following changes to the restraint system, the ride has now remained closed for over four weeks, with no news as to when it will reopen.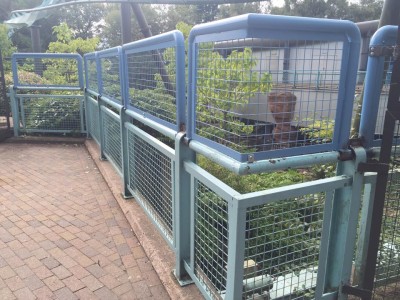 Meanwhile, changes have been taking place around the ride area for Air, with fence heights being increased in a number of locations. The work has seen additional fences added on top of existing ones to increase their height in order to further minimise the possibility of guests climbing over into the ride area.
The ch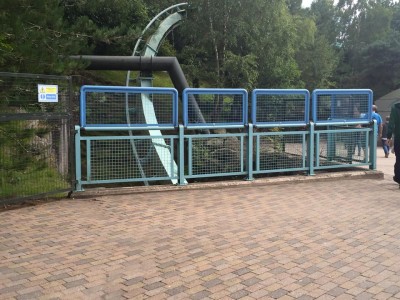 anges are similar to those seen in Katanga Canyon, where large wooden fences were added on top of existing ones. The modifications caused many to criticise the work, as it obstructed what many see as an iconic view of Runaway Mine Train heading out from under the tunnel next to the Congo River Rapids.
Scarefest is coming!
There's lots going on around the resort in preparation for Scarefest:
A container formerly used for SEA LIFE has been moved into place next to the Towers
The scaffolding platform, which appears to have been built as an exit from the Towers now appears to be complete
A container was today moved from behind Duel by crane, which is awaiting being moved into position on park
News of VIP packages available for Scarefest was released by the resort yesterday
Check out our gallery below for details