Alton Towers have released details of further Scarefest VIP packages available during this year's event.
RIP Tour
The resort will be offering an RIP Tour, giving guests 'an actor led tour of the grizzly history of Scarefest, offering a unique insight into the backstory and creation behind our terrifying mazes.'
There will be three tours per day during the event, which runs from 17th October until 1st November. Tours kick off in front of the Towers themselves, with the first timeslot at 5pm, followed by 6:30pm and 8pm. One booking entitles the guest to one time slot only. Guests will be taken on a 'compelling and detailed tour, which includes exclusive front of the line fastrack entrance to all three mazes, a limited RIP lanyard and a fantastical actor'. After each maze, guests will be 'led to their next fate'.
The tours will last for around an hour, and will cost £50 – which is inclusive of entrance to each scare maze.
Extreme Mazes
The popular extreme maze experiences will be back, with a difference. Extreme Maze experiences allow guests to experience Scarefest's mazes with the intensity factor dialed up considerably. As well as the usual experience of going through the extreme maze in a group, there is now an option (for those brave enough!) to go it alone through the maze. Alton Towers have promised they will be their 'most extreme yet', but the maze it alone experience will be their most intense experience to date. Both experiences can be booked by contacting Alton Towers from today.
Operation Lockdown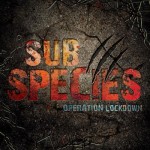 The previously announced Sub Species: Operation Lockdown is also still available. The 2 hour escape room experience which will take place after the park closes between 10pm and midnight.
The maze will feature a theatrical immersive story, and groups will need to complete a series of challenges throughout the maze. Among them will be one of three escape rooms, with the aim being to destroy the alien species and ensure 'you and the rest of humanity survive'. Guests will go through the maze in small groups, who will need to work together as a team to get through the maze.
Booking
All experiences, including Operation Lockdown, can be booked via our VIP team on 0871 222 9938 and are available from today.
Construction Continues
Construction is continuing around the Towers themselves, where this year's mazes are located. Fencing is up along the right hand side of the building, and the scaffolding platform has now been completed. Meanwhile, a container has also been moved into place (no prizes for guessing what it was used for previously!)
Stick with TowersStreet for further updates on the run up to Scarefest, don't forget to check out our Facebook page for more photo updates as we approach October!