A new dark ride and themed area for 2020
Alton Towers today unveiled their new dark ride and themed area based on 'The World of David Walliams' children's book series. The new additions will be located in the area formerly known as Cloud Cuckoo Land, adjacent to last year's addition The Alton Towers Dungeon.
The collaboration with the author was first rumoured back in 2018, and was finally officially confirmed by the resort in October 2019, when billboards advertising the addition appeared across the park.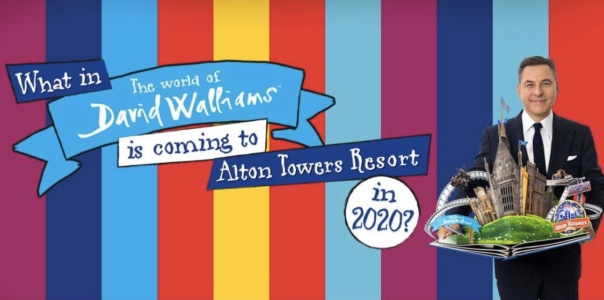 Image: Alton Towers
Gangsta Granny: The Ride
Gangsta Granny will be the first of Walliams' creations to be imagined into a ride at Alton Towers. Originally released as a children's novel in 2011, The book follows a child called Ben who has been made to stay at his cabbage eating, scrabble playing Granny's house. All is not as it seems however, as he soon finds out she's led a secret life as an international jewel thief.
Gangsta Granny has already been adapted into a 2013 BBC film, a theatre production in 2017 and now as a 4D dark ride at the Alton Towers Resort in Spring 2020.
Gangsta Granny: The Ride will be located in the former Wobble World building in the area previously known as Cloud Cuckoo Land, where we had seen hoardings erected and building work taking place inside over the course of last season. The building was most recently used for the resort's House of Monsters family scare attraction, which was last used during 2018's Scarefest event.
Guests will board moving cars capable of turning 360 degrees, and coupled with visual effects such as projection mapping and smells guests will experience the story for themselves.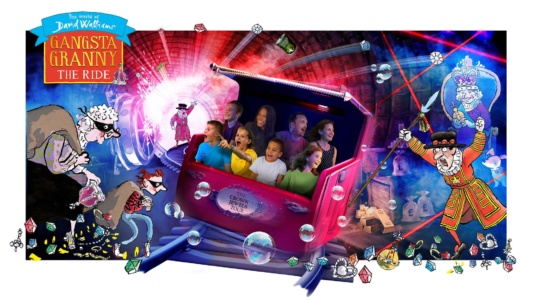 Image: Alton Towers
David Walliams has been collaborating extensively with Merlin Magic Making's Creative Lead for Resort Theme Parks, John Burton in order to bring the author's stories to life:
Check out our dedicated page for everything we know so far about The World of David Walliams. As well as the new ride, there's also some further additions which will make up the new area:
Pick up a crazy bargain in Raj's Shop
Race on a regal thoroughbred on the Royal Carousel
Giggle with delight on Raj's Bouncy Bottom Burp
The resort are also promising some other surprises along to way
Elsewhere on resort, guests will also have the chance to stay in one of four Gangsta Granny themed hotel rooms. The rooms promise guests a themed experience based on the book's characters as well as some hidden treasures too.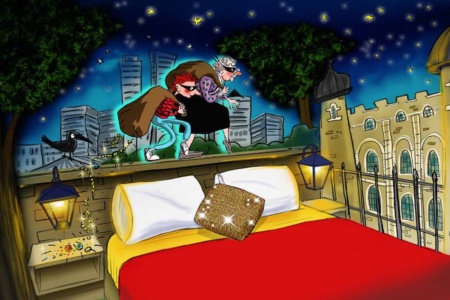 Image: Alton Towers
40th Birthday Logo
In addition to today's announcement, 2020 is also the resort's 40th year operating as a theme park. As part of those celebrations, the park updated their logo across their social media platforms and website. It appears 2020 will see a continuation of the "Power of the Towers" campaign which took place across the 2019 season, and we can't wait to see what else they have in store for guests!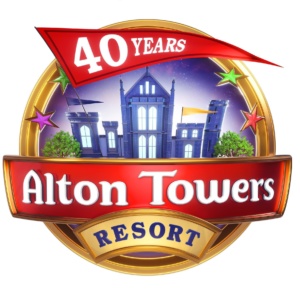 Countdown to the 2020 season
There's just over a few months left until the 2020 season kicks off at Alton Towers, and we've just announced our TowersStreet meets for the year. If you're interested in meeting likeminded people, head on over to our Forum for a list of dates. We'll of course be at Alton Towers for the first day of the season on Saturday 21st March, and we'd love to see you there!
We'll of course be bringing you plenty of updates as the start of the season gets closer. As well as our Forum, don't forget to check out our Twitter, Facebook and Instagram feeds.