Oh dear, I can hear you all say,
@NuttySquirrel
has gone and written another long-winded and boring trip report. I can only blame my previous employer for handing me my P45 a month ago and leaving me with FAR too much time on my hands - otherwise you might all been spared.
But as it is I know that
@Poisson
and
@MattyH
are out of the country right now so I wanted to rush this out before something much funnier and better-written comes along to upstage me.
So this trip was the follow up to last year's
Jubilee Escape Weekend
, that marked the start of a tradition of marking royal events by fleeing the country to swap nauseating patriotism with European indifference. We did think of putting a trip together for the Queen's funeral in September last year but figured that would have been in rather poor taste, and in any case they didn't really give us a lot of notice... Assuming that King Chaz and Queen Cammie would be far to busy to feel slighted by our new tradition, however, we got planning.
Obviously, OBVIOUSLY, the main purpose of this trip was to get me out to Europa Park for the first time, this famous Mecca for theme park geeks where operations and throughputs are a cause for celebration rather than frustration and Ed Euromaus (a.k.a. Roland Mack in a costume) showers every guest with good cheer and optimism all day long.
EP is a bit of a trek for a roadtrip so we threw in a couple of other parks as stopovers - Holiday-Park on the outward leg and Parc Astérix on the return. I was sceptical about the first suggestion, being led to believe it's a pretty ordinary park, but was persuaded that I couldn't righty consider myself a coaster nerd until I'd experienced Expedition GeForce - and also that the alternative option given our route plan was Walygator Grand-Est. Parc Astérix was an obvious choice - arguably a must-do park given the hyped-up opening of Toutatis a little over a month ago, and one I'd never visited. We also scheduled in a sightseeing day in Strasbourg which I've been keen to visit for a while - and would also come in handy for explaining the trip to non-enthusiasts without inviting a dozen questions.
Predicably, the weather forecast for the week ahead was appalling - for some reason everytime myself, my OH and
@John
get together the weather turns against us - but after around 15 years of such treatment at the hands of the weather gods we're pretty used to this and are always well-equipped with extreme wet-weather gear. No such thing as bad weather - just the wrong clothes, as my mum used to say. This theory would prove to be tested to the limit as the week went on.
So we left poor Charlie marching about in the rain and crossed the channel into France, where we were able to get as far as Metz before finding somewhere to lay our heads - an out-of-town ibis that for some reason was obsessed with cows...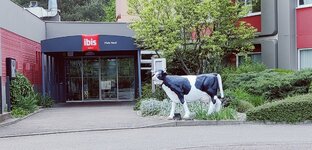 This was a pretty uneventful driving day, but it did give us the opportunity to judge each other's car playlists. I think mine was the winner, an eclectic mix of mainly Euro-Trance and ride soundtracks from our last trip, with some deliberately bad-taste heavy metal thrown in for lols. My husband, on the other hand, had just chucked a few random genres onto an SD card and hit shuffle - zero marks for effort, and not a lot more for quality.
We skipped the cow-themed breakfast and set off early for Holiday Park, arriving in a blaze of sunshine that would turn out to be as much as we'd see all week. I tried to take a group photo at the entrance plaza but everyone ran away...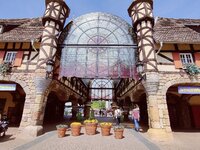 Undeterred, I ran after them in the direction of bigFM Expedition GeForce. What a mouthful, if it had to have such a terrible name couldn't they have stuck to something shorter like Sik? I guess I'll just call it EGF from now on...
The park wasn't at all busy so EGF was walk-on, though running only on one train so we rushed to the turnstiles keen to avoid having to wait even one ride cycle. And so I got to ride my first Intamin MegaCoaster. As I expected it's a great coaster, fast and intense and with loads of airtime, so absolutely nothing like anything I'd ever ridden in the UK! It does seem like a really random addition to this park, however - with everything else being firmly geared towards the family-friendly market - and you can see why they sell T-shirts in the shop that say 'I'm only here for Expedition GeForce'. But for whatever reason it's here, and well worth experiencing, although I suspect I won't be rushing back to Holiday Park just for one good coaster.
We sampled some of the park's other offerings next, which included a Viking-themed log flume (Wickie Splash) which was actually a lot of fun, a drop tower, and the truly bizarre Sky Scream. Honestly I don't really know what they were thinking with this one. It's a weird two-dimensional swing launch coaster, that's pretty uncomfortable and not terribly fun. Having said that, it felt like an unusual cred and not like anything I've come across anywhere else in Europe (I think there's another one somewhere in Finland), and it was quite amusing watching the train hurtling through the station from right to left, to left to right, to left to right again, like a Scooby Doo cartoon. Interesting idea, Premier Rides, but it's a no from me. I think my left hip is still mildly bruised, actually.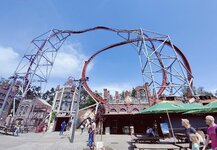 One of the park's other highlights for us was the river rapids, Dino Splash. As you'd imagine, it's dinosaur themed but in a really bizarre way - sort of like some rich idiot decided to buy a big mansion and turn the formal gardens into a dinosaur park; you are even serenaded with tasteful classic music in the queue line. My husband is a big fan of animatronic dinosaurs so this one went down pretty well with him, unfortunately the soaking he received from the latter half of the ride definitely didn't. Oh well, I would get my comeuppance for laughing at him a couple of days later on Fjord Rafting...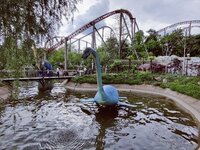 We had a couple of re-rides on EGF and then, as predicted, the dark clouds started to roll in, so we headed into the indoor area to tick off the third and final coaster this park has to offer - Tabalugas Achterbahn. It's a Zierer family coaster, really not very much to say about it, though probably slightly better indoors in a themed area than it would have been outside. The actual theming of the indoor area is a bit random but sort of works, you're either in a fairy kingdom or some sort of christmas village, couldn't decide which, however it's hard to get past the fact that you know you're just in a big blue warehouse. We had a go at the indoor family flat ride, a rider-controlled Zamperla WindstarZ which it's apparently possible to get quite a good swing on. Not so for us - the car we selected was totally
kaputt
and wouldn't even go up and down, let alone swing. By the time we'd been released the heavens had opened and everyone had piled indoors, so we weren't going to queue for a second attempt!
The weather was now so bad that all outdoor attractions had been closed due to thunderstorm risks, but frankly you'd be insane to want to go on any coaster in that torrential downpour, even Octonauts. With no prospect of the weather easing for the final hour of the day, we decided to call it a day and psyched ourselves up for a mad dash to the carpark. I've not ridden the new Valhalla yet but I'm expecting it to be a similar experience...
So Holiday Park was done, or rather we were done with Holiday Park. Not a spectacular park, but definitely an enjoyable half-day and worth popping into for EGF and the bizarre dinosaur river rapids if you're in the area. NB: Food options at the park aren't much to write home about, but we did OK with pizzas in the Italian-style self-service restaurant Casa Palatina, although all that was on offer for coeliacs was soup and chips. This is also probably where you'd go if you planned to sandwich your re-rides on EGF with litres of beer. And there are toilets nearby for the full BRP experience...
Last edited: