TowersStreet Talk Progressive Web App​
TowersStreet Talk has had Progressive Web App (PWA) functionality built into the forum since we moved to the new version of our forum software, Xenforo. For those that don't know, this will allow the forum to look and behave like an app on your device. As well as removing the address bar to give you more screen space to view the forum, it also supports push notifications - just like you get with your email or social media accounts. Following the recent Xenforo upgrade, this is now also supported on iOS as well as Android and desktop browsers like Chrome and Edge.
We know a number of you currently use Tapatalk, but with further upgrades to Xenforo in the pipeline, there is a possibility that the support for Tapatalk will end. If you haven't already, we'd encourage you to give the progressive web app a try now. Just like our whole site, it's completely ad free
.
We've put together a few screenshots, hints and tips below to help you get started. If you need any help, please let us know!
Android​
To install on Android, in Chrome click the three dots in the top right and then select Add to Home Screen. TowersStreet will appear as an icon on your app drawer.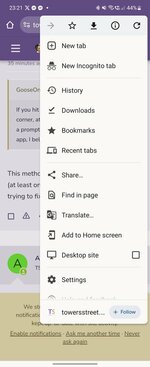 ​
iOS​
For iOS, using Safari tap the share button (middle button at the bottom) and then select Add to Home Screen. TowersStreet will then appear as an icon on your Home Screen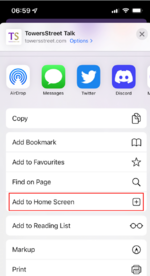 ​
Desktop Browsers​
On Desktop, you'll see an icon to install. For Chrome, this appears as a computer screen with an arrow pointing downwards. On Edge this will show as 3 squares with a plus symbol. Select install and this will add an icon for TowersStreet to your computer. Please note this is
not available natively for Firefox.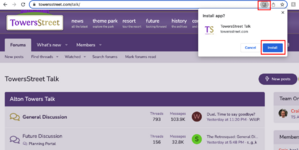 ​
Enable Push Notifications​
You should receive a banner notification on the forum asking if you'd like to enable push notifications. If you've accidentally dismissed this, or you've changed your mind about having push notifications - don't worry, head on over to your
Account Preferences
. This can also be done by clicking your name at the top right of the forum and selecting preferences. You'll then see a button to allow you to Enable push notifications.
Note:
Enabling push notifications is specific only to the device you're using, so if you use a phone, laptop and tablet and want push notifications on all, you'll need to do this on all three of your devices.
Customising notifications​
You'll also see underneath that you can choose to customise your notifications to your preference - these settings are account specific so changes are reflected across all the devices you use. There's two types of notification, Alert is the one you're used to which appears in the top right beside the bell icon. Push is where the alert will be sent to your device. Don't forget to save once you've unticked/ticked to your preference.
​
Already installed the app?​
If you've previously installed the app, there are occasions where the updates may not feed through to your phone. If you're experiencing issues, first we reccomend that you uninstall and reinstall the app using the above instructions.
Still experiencing issues?​
Firstly, the app
only covers the forum
it is not intended to allow access to the rest of TowersStreet. As a result you'll notice only forum related menus feature on the app, the other website related menus will not appear.
If you experience any issues with any of the above, then please let us know below. We can only fix issues when we receive feedback that they're not working as they should, so we'd love to hear from you if it's not working as you expect!