AstroDancer
Dynamo originally arrived at the park in 1993 as the AstroDancer. Alton Towers had recently started its transformation into a theme park, but recognising the need for thrill rides in the line-up the ride was installed with its original fairground theme. This was broadly in keeping with its location in Fantasy World, where it replaced the Cine2000.
AstroDancer thrilled guests in its original location until 1996, when much of Fantasy World was cleared to make way for Oblivion.
Dino Dancer
In 1997 AstroDancer was moved to a new home in Festival Park alongside the Energizer. It was not long before it was on the move again though, and the following year it moved onto the Energizer's site, when that ride became part of X-Sector.
Festival Park was rethemed into Ug Land in 1999 and at the same time AstroDancer became known as the Dino Dancer and received a colourful new prehistoric paint scheme in order to fit in. But after just two seasons, it was removed at the end of 2000 to make way for the Boneshaker (the rethemed Energizer, returning to its original location). Dino Dancer went into storage and did not operate during 2001.
Dynamo
After a year out of action, the ride made a triumphant return in 2002. Now known as Dynamo, it took over the Beastie's old site at the entrance to Forbidden Valley, with its queue taking over an unused part of Nemesis' original overflow line. But despite its fresh new look, the ride quickly became rather unreliable, which led to increased periods of downtime in its new home. After just two seasons in Forbidden Valley, Dynamo ceased operation towards the end of 2003, before it was fully removed in February 2004.
Following Dynamo's removal, it was originally replaced by one of the park's ubiquitous putting challenges and other game units, before eventually becoming home to the Lava Lump climbing wall and trampolines. Several years later, Nemesis: Sub Terra was built on the Dynamo site for the 2012 season.
But the story didn't end there... After its removal, Dynamo remained in storage behind Duel until 2005 when it was sold to Mondial to be fully refurbished. The ride was returned to a more standard Breakdance theme before being sold on to the German traveling fair circuit.
Dynamo fans can also spot remnants of the ride within Forbidden Valley - Dynamo's entrance obelisks and queueline were once again used for Nemesis: Sub Terra and later Project 42.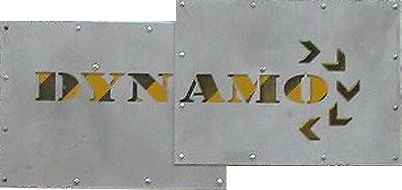 Attraction Stats
Timeline
1993
1997
1999
March 2002
October 2003