Enchanted Village Development
---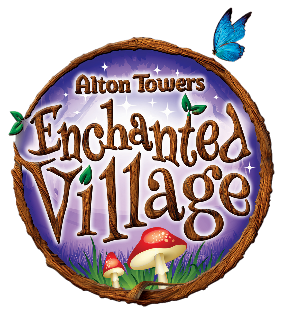 Location:
Enchanted Village
Opened:
18th April 2015
Phase One
On 2nd May 2014, Alton Towers Resort published a Press Release to confirm that their new Enchanted Village development had been given the go-ahead. The Enchanted Village is pencilled to open on April 18th 2015 and will house 120 Fairytale Lodges and 5 'unique luxury Treehouses' (plans had been submitted to request permission for 61 double lodges and 10 Treehouses) and is set to be 'completely themed around a fairytale hideaway'.
To complete the development there will be children's play areas, a restaurant and planned family entertainment. The lodges will accommodate up to 5 guests and the Treehouses will each accommodate groups of up to 8.
For regular followers of Alton Towers Resort future plans, this is a particularly welcome development that follows a 2012 planning application for a "Phased Development of 150 Lodges" which was withdrawn in 2013.
The most notable changes from the 2012 plans to the 2015 plans are:
Change of location. The Enchanted Village will now sit on the meadow to the side of the Alton Towers Hotel (on the site of the former Field of 1000 Screams scare maze)
Loss of 'holes' and 'huts' but in their place, Treehouses
The Lodges will no longer have their own kitchenette
Treehouses are advertised to be fully self catering with 4 separate bedrooms
So, what's the 'Fairytale Enchanted Village' going to look like?
Concept art provided from the planning stage gives us an idea of the finished products:
Village Plans
Planning documents show the overall area of the development to cover 3.95ha on the site to the east of the Alton Towers Hotel and Spa. Inside this space is planned 61 double lodges (122 residences in total), 12 of which will be accessible for guests with disabilities, and an additional 10 Treehouses (though only 5 were noted on the Press Release). In addition will be a large restaurant building which will be used for meals, check-in and is also described to provide family entertainment. 10 children's play areas will be sited within clusters of Lodges, and parking will be provided on what is now carpark J & K. For Treehouse guests, parking will be available to the side of the Alton Towers Spa, and 9 disabled parking spaces will be provided for accessible Lodges.
"Enjoy a short break in one of our 120 fantastical lodges. All sleeping 5 people, each lodge will house a king size bed, bunk bed and truckle bed. Guests can relax on their outdoor decking area, children can have fun in the quirky play areas around the village and guests can make use of the free car parking and easy access to the Theme Park and the rest of the Resort."
There is planned to be a main room with a double bed and small seating area, a bathroom with bath and overhead shower (for the accessible lodges this is a wet-room style bathroom with walk-in shower) and a seperate sleeping area with bunk beds for children with a pull out bed if needed for a fifth guest. A small table and chairs will be placed on the decking to the entrance of the lodges.
The lodges will have lighting controlled by key-card, whereby guests insert their room card into a switch to enable lighting to switch on and thus switch off upon leaving. Bathrooms will contain a fan to ensure a constant draw of fresh air throughout the lodges via trickle vents within the bedroom windows, with a boost to the fan when the bathroom light is switched on. No air conditioning is planned.
As the Resort grows, the traffic grows. Isn't this a problem?
Similarly to the 2012 plans, traffic and access worries have been assessed and the outcome remains the same. A quote from the Transport Assessment document concludes:
"In summary, the main users of the lodges/treehouses will be resort guests who's arrival and departure will be spread across the day therefore having little or no conflict with day visitors to the theme park."
Parking is provided on existing J & K carparks. What about my luggage?
As per the transport assessment, guests luggage will be transported to their lodges via golf cart if neccessary (guests are likely to be encouraged to take their own bags to their accommodation).
Won't this new development spoil the landscape?
The Enchanted Village has been designed to complement its surroundings, and features natural materials as described in the Design and Access Statement. Natural materials with a rustic influence will be used, including timber shingle roofs, timber doors and windows, stonework walls, feature chimneys and timber fencing around each lodge's entrance area. Each Treehouse will have its own private decking area to the front and rear to allow guests to view the woodlands and surrounding areas. In addition to this, landscaped mounds will be constructed between the lodges and the Treehouses to shield the Treehouses from the general development.
What about guests with disabilities?
Of the 122 lodges planned, 8 will be considered 'accessible' for wheelchair users, with a further 4 being 'extra large' which may be converted in the future. 1 Treehouse will be accessible for wheelchair users. In addition to this, consideration has been given to those with visual impairments and hearing impairments, with visual contrast decor being used for ease of accessibility and visual indicators for fire alarms. Car parking provision for guests with disabilities means vehicles can be parked close to the accessible lodges, however this may not be the case for the accessible Treehouse. It is proposed that external lighting will ensure that all guests feel comfortable in the area during the evening, and will also maximise the vision of those with visual impairments. As a conclusion, the planning documents state:
"…The result is an exciting development which will offer disabled guests a real chance to experience the lodges and tree houses in the same way as is afforded to non-disabled guests"
Show Lodge
During 2014 a show lodge was built on the front lawn of the Towers to advertise the Enchanted Village to park visitors and give them chance to take a look inside the new accomodation.
Phase Two - Abandoned
Plans to expand the Enchanted Village development were approved on Thursday 14th April 2016. These plans were later abandoned however in favour of a different scheme involving smaller camping pods.
If these plans had come to pass, the Enchanted Village would have grown to accommodate:
70 lodges (4 accessible for guests with disabilities)
A new stand-alone reception building
A new tipi-style entertainment area with associated facilities and courtyard (including WCs and a small eatery) and an astro-turf "Village Centre" open area
Three additional service buildings
25 new FTE jobs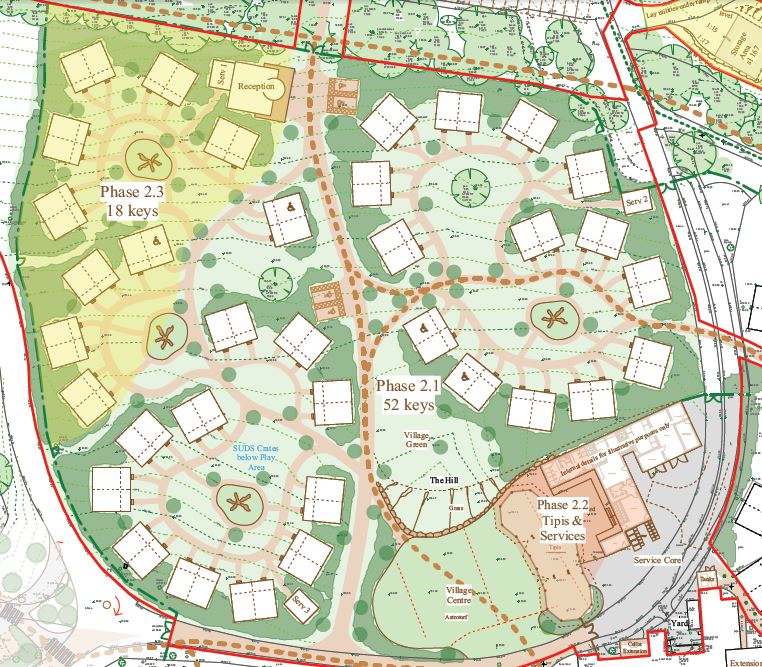 The expansion would be located north of the existing development completed in three "Phases" between 2018 – 2021, with the new lodges identical to those already installed in Phase 1.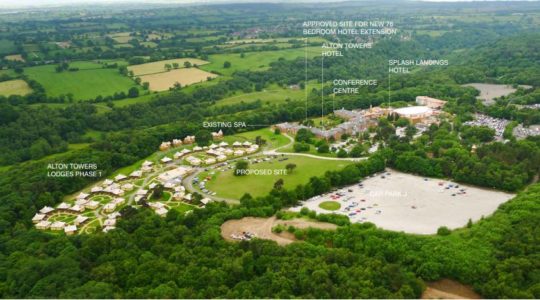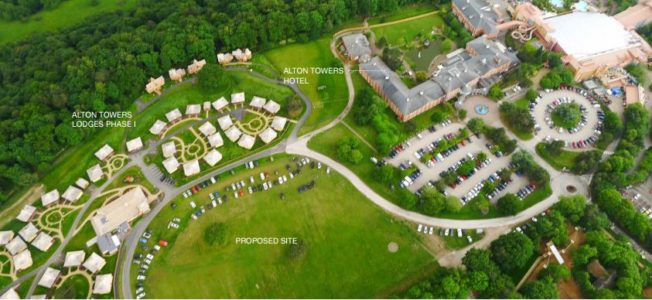 Phase 2.1 [Commencing June 2018, to open March 2019]
26 double lodges (52 new rooms)
2 Service huts
Services work & landscaping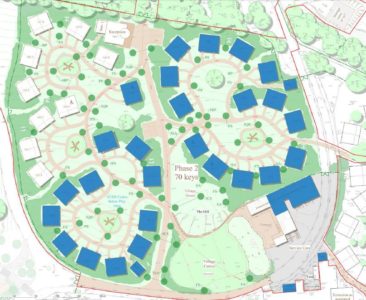 Phase 2.2 – Commencing March 2020
Tipi entertainment area and extensions to services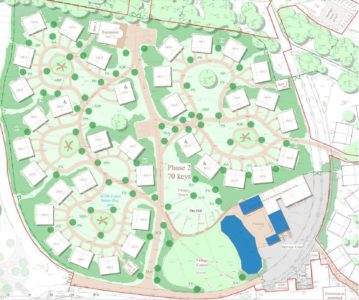 Phase 2.3 – Commencing 2021
9 double lodges (18 new rooms)
New reception building & services work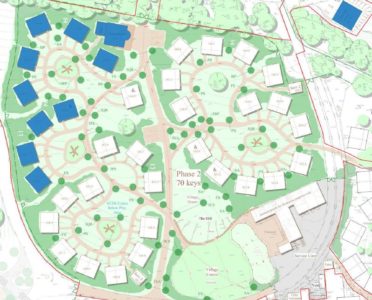 The Tipi entertainment area to be built as part of Phase 2.2 in 2020 would be an open sided timber structure with a fabric roof, and will accompany an astroturf open area and courtyard with new public WCs and a small bar/food outlet.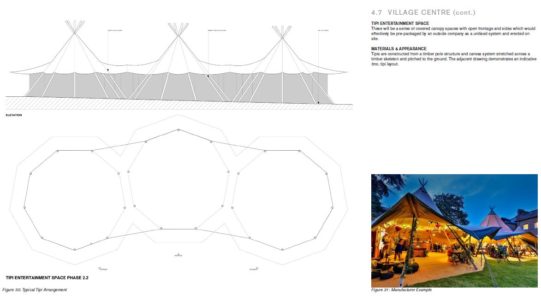 Stargazing Pods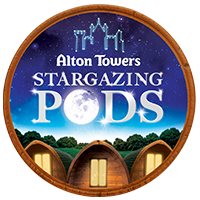 In March 2018, Alton Towers applied to have their existing planning permission for a second phase of lodge development replaced by permission for eight clusters of camping pods with associated service buildings. In July 2018 the plans were scaled back to a more simplistic design, which was granted permission shortly afterward. The plans call for:
102 Camping Pods
A single shower and toilet building
An entrance structure for the camping ground
The pods are designed to offer an alternative accommodation option for those on a lower budget and will only contain a sleeping area. Rather then each pod having a bathroom, shower and toilet facilities will be provided in a block to the south of the site. The increased number of pods (102) in comparison to the lodge development (70 lodges) reflects the smaller footprint of the pods, and also the smaller maintenance areas required due to no individual washing/toilet facilities being provided.
The only element of the original plan to be retained was the Tipi entertainment area, which had already been constructed in 2017, ahead of the resort's Christmas events.
Construction began on the site in July and shortly afterwards the resort announced the new accommodation would be known as the Stargazing Pods. The park also kicked off marketing for the new village addition by adding a cluster of show pods on the front lawns of the Towers, much as they had done when the original Enchanted Village opened.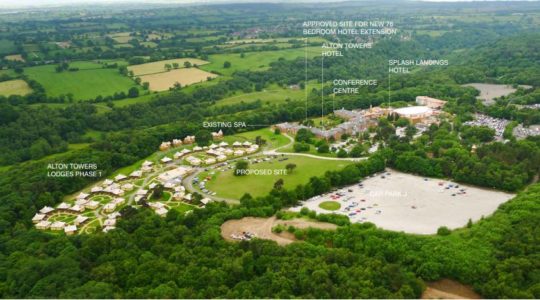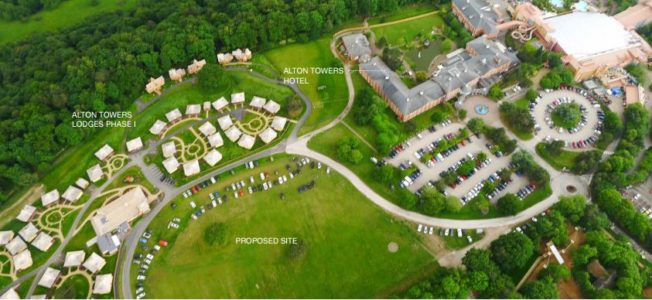 Stargazing Show Pod
Original Lodge Plans
On Thursday 16th May 2013, these plans were withdrawn by Alton Towers. Our news article from the time provides more detailed information.
What was planned?
A planning application was submitted to Staffordshire Moorlands District Council on Friday 12th October 2012 in respect of Alton Towers Resort Operations Limited, seeking permission for:
"Phased development of 150 lodges, associated reception/restaurant and servicing buildings at Alton Towers Resort, along with hard and soft landscaping, disabled car parking and associated drainage works."
The project would have be built in two stages and covered 5,002 square metres located in the field overflow car parks more commonly known as "O and P", see the red area on the image image.
Phase One (to the right of the images) would have been completed in February 2014, consisting of 16 lodges, 64 huts and 5 holes, as well as the combined arrivals/restaurant/office/shop building, 2 service huts, a utility building and some themeing elements.
Phase Two (to the left of the images) would have been completed in February 2015, consisting of a further 18 lodges, 47 huts and 2 further service huts.
Accomodation
The overall proposal was for 150 accommodation units, made up of three types of building – lodges, huts and holes.
Lodges would sleep up to 5 people on a double bed, bunk beds and a pull-out extra bed.
Huts would sleep up to 4 people on a double bed and bunk beds.
Holes would contain the same features as a hut, but are slightly smaller in size and are 'underground'.
All accommodation options would provide a kitchenette as well as a veranda to its front with table and seating.
There were also 3 Accessible Lodges and 12 Accessible Huts specifically designedfor disabled guests.

Other facilities
A combined arrivals and restaurant building was proposed for completion with Phase One. The restaurant will seat 150 people indoors, and 60 people outdoors (weather permitting). The building itself would house both the reception area and restaurant, as well as a kitchen area, staff and guest toilets, a linen and plant room, a small shop, and a staff break room.


There was also provision for children, with nine play areas scattered around the site. On an operations basis, there will be service huts around the site to aid maintenance and housekeeping, and a utility building to provide power.

In summary
Alton Towers Resort were looking to build 150 accommodation units, each sleeping 4/5 people, with a view to adding more variety in terms of accommodation size and pricing.
The development would occur in two phases, open to guests by March 2014 and phase two by March 2015.
The development would be housed in a meadow to the north of Alton Towers Hotel on car parks 'O and P', on an area totalling 5,002 square metres (4.17 hectares).
Accommodation units will comprise three styles – lodges (sleeping up to 5), huts (sleeping up to 4), and holes (sleeping up to 4). All units would have their own self-contained wash facilities and kitchenettes, as well as verandas at the front with a table and chairs.
The development also came with a large multi-use building housing the reception desk and the restaurant, seating 210 at maximum capacity.
The development would have nine play areas across the site to cater for children.
Biodiversity, wildlife and the environmental impact of the development had been a great consideration, though there is considered to be little to no impact in those respective areas, due to the sympathetic nature of the development on the surroundings; wildlife may well benefit from the changes being implemented regarding the created ponds.