Fireworks 2017
Since publication of this article, Saturday's fireworks tickets have now sold out. Please
Do Not Travel
to the park unless you have prebooked a ticket. This includes Annual Passes
Scarefest 2017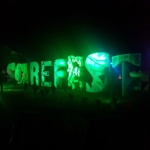 Tuesday 31st saw Scarefest season draw to a close at Alton Towers, and with 12 consecutive late night openings over the course of October half term and Halloween, staff will no doubt be glad of the rest! The park seemed much busier than previous years, but overall seemed to cope well with the crowds.
A new ticketing system was rolled out for Scarefest, allowing guests to print their maze tickets at home rather than pick them up on resort. Whilst long queues were still seen at Box Office, hopefully this method will be promoted further next year.
Fireworks Prep underway – Don't forget your tickets!
The end of the scarefest event saw plenty of activity already, with equipment being rigged on the lawns ready for this weekend.
With only two days of Fireworks again this year, the park is expected to be extremely busy, particularly on Saturday. The resort have been reminding everyone to pre-book tickets, including Annual Pass holders who should book a £5 ticket on the website. Saturday's tickets have now sold out, with only a small number of tickets remaining for Sunday.
As many of the resort's own food outlets are presently closed, the usual catering vans have already been operating over the busy October half term season. There's an increased number of them this year for Fireworks, in the hope that the park won't have the excessive food and beverage queues experienced last year. That said, we would recommend eating 'off peak', well before or after lunch and avoiding eating close to the Fireworks being set off at 7pm.
Standard Ticket Holders
If you're a standard ticket holder, please note the following:
| | |
| --- | --- |
| Hotel Guests | If you are staying in one of our hotels, as long as you have some form of valid ticket you are guaranteed entry. |
| Under 3's | Under 3 tickets are not required to be pre-booked. However, the rest of your party must have pre-booked to guarantee entry. |
| Carers | You do not need to pre-book carer tickets, these can be collected on-the-day if you meet the requirements as outlined in our Disabled Access documentation. However, the rest of your party must have pre-booked to guarantee entry. |
| Promotional Vouchers | Selected promotions will be valid when pre-booked online in advance to guarantee entry, these include Cadbury's, Kellogg's and Tesco. Please check your voucher terms and conditions. The Ultimate Fireworks Spectacular is a Special Event. |
Annual Passholders
If you're using an Annual Pass, Friends and Family ticket or a Share The Fun voucher, please note the below:
| | |
| --- | --- |
| Merlin Annual Pass | All Merlin Annual Passes are valid for Fireworks without restriction, however we strongly advise guests with an annual pass to pre-book online to guarantee entry. Even with pre-booked tickets, we advise you to arrive before 3pm to avoid any disappointment. Annual Pass tickets can be booked in advance for £5. |
| Alton Towers Annual Pass | Alton Towers Annual Pass holders should pre-book in advance for £5. |
| Share the Fun Vouchers | Merlin Annual Pass Share the Fun Vouchers are not valid for Fireworks 2017. |
| VIP Celebration | VIP Passholders must pre-book using the "tell us you are coming form" and must state how many celebration tickets they will be using. |
| Friends and Family | This must be pre-booked online via the Merlin Annual Pass website, these tickets cost £26 |
Even with a valid ticket, ensure you show up early to the event as roads last year quickly backed up once gates were closed. We'd highly recommend turning up well before 2pm to avoid any issues with entry.
Keep an eye on the official Alton Towers Facebook and dedicated Fireworks pages on their official website, just in case there's any changes in the run up to the event.
SW8 Construction
Work on SW8 has been continuing over the last few weeks, and whilst it may look fairly quiet due to the large structural work being more or less complete, there's lots of smaller works being carried out such as anti rollbacks on the lifthill.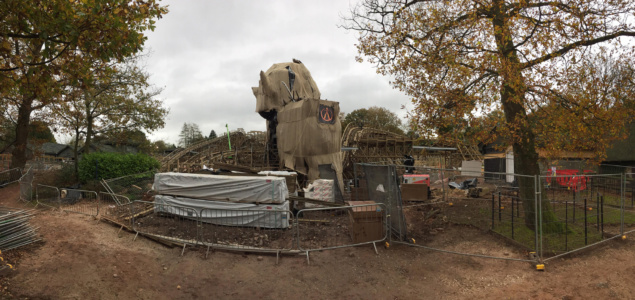 Meanwhile, ITV News were on site this week armed with a drone for some aerial shots and a report on next year's new attraction. Merlin's creative director Bradley Wynne featured in the report stating that the rollercoaster will only form part of a larger theatrical experience. You can check out the full report on the ITV News website and the video report below:
Conservatory and Pagoda Refurbishment
Over in the gardens, the pagoda has been shrouded in plastic wrap for the season to allow for a full refurbishment to take place. This has recently been removed to show a full repainted and restored structure, which we're sure you'll agree is looking fantastic!
The conservatory has been getting some much needed attention too, with a full strip down and repainting of the frame of the building and replacement of broken and damaged glass.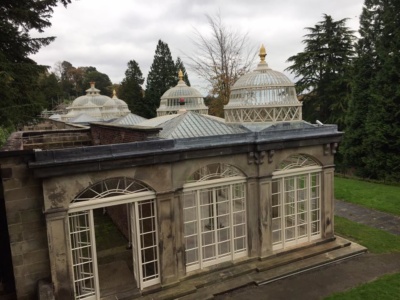 Enjoy This Weekend!
If you're heading to Alton Towers this weekend for fireworks and to have a last sneaky look at SW8, have an amazing time and don't forget that it's our official meet on Sunday. All are welcome, so pop by and say hi if you're around!
We'll continue to bring you updates over the closed season, and there's plenty of discussion going on over on our Facebook page and of course on our Forums.