Favourite Ride

Steel Vengeance
Riding Lech in 2018 was a revelation. A euphoric experience jettinsoning it to a high ranking place in my top 10, and a new found admiration for Vekoma with these seemingly new versatile models.
Whilst only having ridden Formula at Energylandia to compare, the two are nothing alike. The less than favourable reviews for Abyssus compared to its Legendia counterpart, and F.L.Y sitting on the totally opposite scale of what Lech has achieved, have had me pondering for some years now whether or not Vekoma will match the surprise found on the edge of a lake in an unsuspecting Polish city park.
When it was revealed that one would be making its way to Denmark this year, and looked like it had a fighting chance from a POV basis, the deal was sealed and flights were booked for this long weekend to source the answer to a simple question.
Are Vekoma capable of building another innocent looking yet outrageously fun coaster in Europe?
The answer? Well, I won't be finding out until Monday. Afterall, it would have been criminal to just visit the one park when there were two other parks relatively nearby that have been quite "farup" my to do list for some time, so they "djurs" about made the cut.
Before getting into details about the parks, this trip in itself was a pain in the arse to plan from a budgeting perspective. Denmark obviously isn't cheap; it's part of Scandinavia. Therefore I was well prepared to have to remortgage my house somewhat to make this remotely possible, but trying to find hotels that didn't cost an arm and a leg whilst being in relatively nearby proximity to the parks we wanted was no easy task, particularly where Billund (the start and end points of this trip) was concerned.
Our first hotel, conveniently situated in the heart of the town directly opposite the Lego House, tantalises guests in with beautiful external charm. That's about the only positive I can muster, as the rooms were hideously outdated, and the idea for decor was to slap some Word doc typed up motivational quotes and frame them. The beds were as comfortable as a stack of sandpaper, and the AC unit outside by the cigarette butt carpeted balcony louder than any aircraft at the nearby Billund Airport. If you ever find yourself in Billund, for your own sanity I implore you not to stay on Hotel Refborg.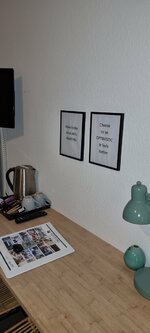 So, before you die of old age or boredom (whichever comes first), let's get onto the first park of the trip. Legoland Billund. The OG.
The added pressure I guess for LLB is that their next door neighbours (aside from the town and the airport) is Lego themselves, peering in over the park with their instantly recognisable campus buildings.
The arrival to LLB is less glamorous than LLW, whereby the long drive in with the W E L C O M E letters spaced out greet you as you wind through to the car park. That said, it puts you right into the action from the moment you see the peaks of some of the attractions and hotels.
No bag searches. No English families storming through the plaza in a pompous manner with their trollies piled high of jarred hot dogs whilst looking to get their RAPs. No repetitive and irritating soundtracks. From the car and into the park in less than 5 minutes. Boom.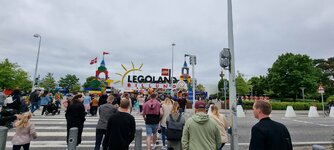 Now obviously LLB doesn't benefit from the gorgeous panoramic views that LLW holds so dearly, stretching from Windsor and across to the London skyline. What LLB does have, however, is far more charm and character than LLW.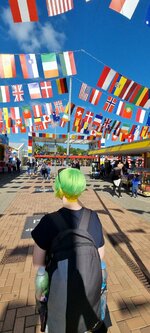 Whilst Miniland feels far less varied (mainly focusing on the architecture of Denmark as opposed to LLW's broader stretch across the continent and indeed the globe), the entirety of the park feels more
authentic
. It feels as if there are far more authentic brick made models around the park, with the only notable use of the newer fibreglass looking minifigures outside the shops and in the Lego Movie World area.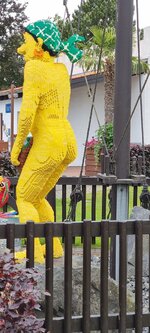 Yep, 100 per cent brick built. No corners cut here folks.
Our first mission was to get the credits done as quickly as possible so not have to queue for them later in the day. We opted to head to Polar Xplorer first, having the least expectations for this Zierer free fall drop coaster. Whilst en-route however, we were distracted by the Dragon. Mack powered, however, unlike the majority gravity powered ones across the Legolands of the world.
Whilst the dark ride section is just as charming and varied as LLW's, for me, the powered coaster section itself wasn't overly strong. A little too short given the grand nature of the coaster itself.
After this, we ambled over to Polar Xplorer. I cannot stress enough how low my expectations were set for this, having seen the ride POVs from when it first opened and it also having stalled the previous month.
With that said, it had an advertised queue time of 0 minutes, so we decided to give it a go. With no need for the external cattle pens, we headed straight into the station and onto the ride for our first go.
So, what did I think of the ride?
Well....
Polar Xplorer perfectly sums up for me why it is better to ride something with low expectations than higher ones. If you anticipate a ride to be crap and it delivers on that stance, then it's no skin off my nose. However, I was pleasantly surprised by this. Not only was the main coaster section much nipper than I anticipated, there were a few pops of air time that made it an all round genuinely fun family coaster. Where Thirteen tediously lunges through the clearing in the Dark Forest with little personality or vibrance about it, Polar Xplorer is much more zesty and packs a punch with its pacing. Then there's the free fall drop itself. Having been somewhat disappointed by Verbolten's and watched the early day POVs for Polar Xplorer, I was expecting more of a gentle elevator downwards than anything with substance. Instead, a forceful drop with definte bum lifting.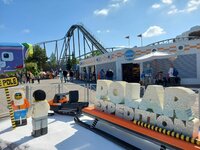 Now I won't sugar-coat the meander back to the station. It's a crap ending to what is otherwise a really solid and unsuspecting looking family coaster. Yes, there's the penguin enclosure on the brake run that gives Sea World a run for its money. However, this doesn't detract from what could have been an ideal place to fully enclose the free fall drop exit to the brake run and turn it into a dark ride section, rather than a couple of speed humps paired with a few Lego props.
Nevertheless, for a coaster I've had no anticipation for whatsoever, it was a genuinely pleasant surprise. We re-rode it immediately after the first ride, and went back just before leaving the park to give it one final go. I won't claim to be an avid fan boy for the ride, but I'll certainly stand its corner if necessary. And yes, I do prefer it to Thirteen with absolutely no shits given.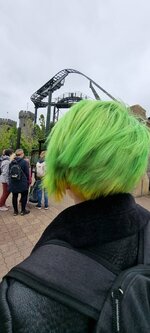 After this we decided to gently stroll over to...
Xtreme Racers. A coaster I was convinced was a Gerst Bob prior to visiting, only to realise it was indeed a Mack. With an advertised queue time of 0 minutes, we decided to give it a go.
The advertised wait was certainly no truth teller, as we ended up waiting almost 3 and a half minutes before boarding.
So, what did we think of the ride?
Well...
Standard run of the mill Mack wild mouse. Zippy round the corners, a few punchy drops, but nothing to overly shout home about. Good fun.
The fourth and final cred had the longest wait, given its proximity to the front of the park compared to the rest. Flying Eagle is the parks latest coaster, installed four years ago. A two lap special Force 281 from Zierer with a 30 minute queue; the second longest queue we waited in all day behind the queue for a coffee and chocolate lego bricks (more on that in a moment).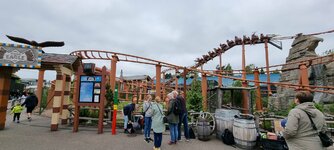 Another excellent family coaster of an unsuspecting nature. Where similar coasters would transition from one turn to another with a forceless bunny hop or even nothing at all, Flying Eagle throws in some s-curve style elements to ensure a constant flow of something happening at all times. A second lap reaffirms the delight of the first, with the only real downside of the ride being the throughput from one train due to the two lap nature.
Overall, I was quite taken aback by LLB's cred line up. No, it's hardly the Paultons Park of Denmark from a variation and number perspective. Having had low expectations in the first place, popping four new creds under the belt here didn't feel like a chore or exercise to do. It was genuinely fun.
When it comes to the rest of park, there are some things only Legolands can be notable for. The Lego brick chips at LLW sent the Merlin Mum's into a frenzy, and that success has been somewhat replicated over in Billund, albeit more modestly.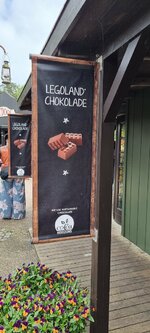 At £1.15 for a chocolate Lego brick, they're certainly an expensive treat considering they're one mouthful. White, milk, caramel and another I can't remember the flavour of are the offerings of the day, and we ended up queuing for just over half an hour (for a coffee as well) given my need for a caffeine fix. Most food outlets weren't open at this point as it was before 12pm, and those that were clearly had like minded guests needing the same fix. One Danish guest sighed behind us recalling how his visit the day previously hadn't been riddled with such a problem, and he strolled off to presumably break the news to his other half they would have to control their children without any form of coffee in their bloodstream.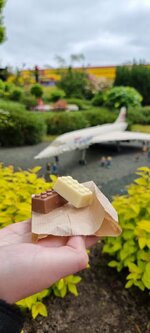 £2.30 for two mouthfuls. Christ.
After having a gentle meander through Miniland, we observed the strange phenomenon of Ninjago only having a 5minute queue, having previously been on a 45 minute wait. So we decided to give it a go.
The advertised 5 minute wait turned into a walk on experience (thank God), and we were batched swiftly. On returning as we disembarked, the guests in front of us asked to stay on due to the lack of queue and were granted their request. A re-ride? In a Merlin park? Somebody call Varney...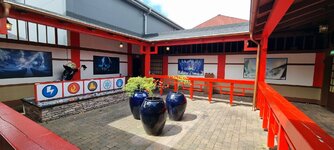 The ride itself was just as physically demanding as the LLW version, being a hit and miss affair that only works if you're a seasoned pro or staff member. A one and done indeed.
Last edited: