The Plot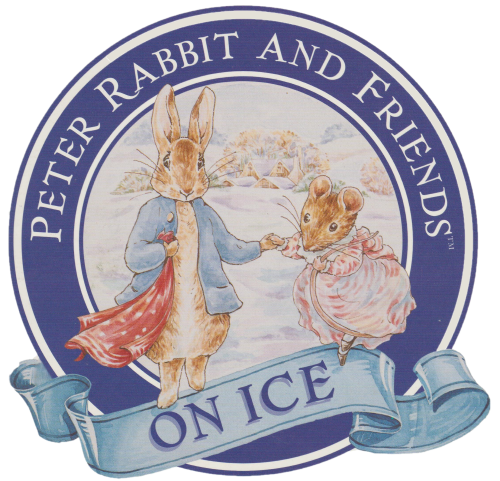 ONCE upon a time there
were four little Rabbits ,
and their names were --
Flopsy,
Mopsy,
Cotton-tail,
and Peter.
Flopsy, Mopsy, and Cotton-tail,
who were good little bunnies,
would never get into mischief:
But Peter, who was very naughty,
just wanted to dance on ice and so
in 1994 skated into Alton Towers
to star in his very own ice show.
The show opens with a picnic as a little girl named Lucie settles down to read The Tale of Peter Rabbit. She soon falls asleep and is transported to a magical world where Peter Rabbit emerges from a picnic basket and invites Lucie to dance.
As the dance comes to a close Peter realises he has lost his 'kerchief and he recruits Lucie to help him find it. They set off to visit Peter's friends in case any of them can help locate the lost item.
Two bad mice have found their way into a nursery and are exploring the doll's house when Peter and Lucie arrive on their search. The mice are of no help but instead decide to wreak havoc in the nursery by winding up all the toys.
From the nursery, they make their way down to the river to meet Jeremy Fisher before Peter decides to find a snack and sneaks in to Mr McGregor's garden to find a carrot or two. A flock of birds descend before Mr McGregor also arrives and gives chase with his watering can.
Meanwhile, as night falls, Lucie has got lost and stumbles upon a burrow to take shelter in. She is soon surrounded by a gang of creepy crawlies, including a giant spider that drops from the roof. It is at this moment that Mrs Tittlemouse, the owner of the burrow, arrives home and enlists Lucie and a broom to help clear her house of the uninvited guests.
When Peter arrives, it turns out Mrs Tittlemouse also does not have his handkerchief but thinks she might know who does. She takes them to Mrs Tiggy-winkle's house, where they discover the hedgehog doing her laundry. But what is she washing? It's none other than Peter's lost handkerchief!
The show would culminate with a country fair, where Peter and all his friends would dance around a maypole to celebrate the reunion between our furry hero and his prized hanky.
The Life and Times
In 1994 the legendary Henry Hound was retired as the Alton Towers mascot and the park needed a heavy hitter to take over the headline spot in the entertainment line-up. As a replacement for the park's ice-show, Captain Henry's Gold, they turned to the classic tales of Beatrix Potter and the Big Top became home to Peter Rabbit and Friends.
The new show was a huge undertaking for the park with the elaborate costumes being created by Tussaud's Studios, inspired by Beatrix Potter's original illustrations. Each animal head went through a weeklong sculpting process, which created a the mould used to make a plastic mask, which was covered with fur. Any easily-damaged areas of the mask were made to be easily detachable, so individual parts a could be replaced without need a whole new mask.
The hard work of the creative team paid off and the new show was a hit, delighting families with its quaint English charm, detailed costumes and excellent performances from the cast. This success paved the way for the 1996 addition of Storybook Land, which would be loosely themed to the same style and saw the arrival of another of Peter's friends, Squirrel Nutkin, or Squirrel Nutty as he became known for his attraction.
The new area's shop, Ginger and Pickles, was also named after a Beatrix Potter story and offered a variety of Peter Rabbit souvenirs for fans of the ice show. The shop was attached to Peter Rabbit's House, where guests could meet Peter in his living room and get a souvenir photo with the bunny.
What happened next...
The original version of Peter Rabbit and Friends ran through the 1997 season before being replaced by a new tale for 1998. Beatrix Potter herself replaced Lucie to become Peter's human companion in an anthology of her tales. Other than Peter Rabbit, the cast of characters completely changed and now featured a retelling of the tales of Jemima Puddle-Duck, Tom Kitten, Benjamin Bunny and Mr Tod.
Also in 1998, to celebrate the new show, two themed suites were added to the Alton Towers Hotel. Guests could now hop into the magical world of The Peter Rabbit Room and Benjamin Bunny Burrow, both of which were decorated with artwork based upon Beatrix Potter's original drawings.
In later years Ginger and Pickles was converted from a shop to become the entrance of the ice show, though still featuring a concession stand to serve theatre goers. The photo opportunity was also removed as part of the development, with Peter Rabbit's front door now allowing ice-show guests to bypass the shop.
During its final years, the tales retold in the show became more interchangeable, with both Jeremy Fisher and Mrs Tiggy-winkle making reappearances. Peter Rabbit and Friends performed for the final time at the end of Summer 2001 before being replaced by Webmaster: An Adventure on Ice for the following season.
But the tale didn't end there... and Peter Rabbit would hop back into Alton Towers in 2019 when Peter Rabbit Hippity Hop arrived in CBeebies Land. The drop towers are located a mere bunny hop away from Peter Rabbit's old home in the Big Top, where Big Fun Showtime is today.
The new attraction may be based on the more modern interpretation of Peter Rabbit but hints of the traditional style of the old ice show still remain around the resort, not least in the Alton Towers Hotel, where the original Peter Rabbit themed suites are still welcoming guests today.
In the park, Peter Rabbit's old house is now the entrance of the CBeebies Land Photo Studio and so welcomes a new generation of guests to have their photo taken. The living room scene would have taken up the corridor which acts as the waiting area for the studio.