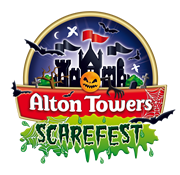 Planning a trip to Alton Towers for Scarefest? Have a read of this guide to help you make the best of your visit. If you're coming to the park with young children check out our dedicated Scarefest Family Guide.
Park Hours:
The park is open 10am – 9pm – no Early Ride Time (ERT) is available so you get an extra bit of time to plan in the morning. This means you get to ride in the dark, a rare occurrence at Alton Towers and can make for quite a varied ride experience.
Weather:
There is no denying that in general October is when autumn takes a deep grip on the UK, and although temperatures can be mild during the day, you will often find the weather brisk at best. It is also worth remembering that even mild days turn into cold nights. Make sure you wrap everyone up warm and consider a change of clothes if you fancy doing any of the water rides (we recommend the Rapids as the most suitable winter water ride).
Getting around:
The park is big, so plan to spend your time in certain areas before hand and maybe even think about where you would like to eat and drink beforehand to prevent racing around the park all day. Be aware the Skyride and Gardens will close as dusk approaches for safety reasons, which mean you need to be more aware of travelling around after this time.
Scarefest Special Events:
The scare-mazes are the highlight of the event for any thrill seeker – and we at TowersStreet love them! See our individual guides to the mazes.
There are four mazes to try and all are charged for. Buying a combi-ticket will make them cheaper and they can be bought either in advance or at Sales & Info kiosks across the park.
Also don't miss the Scaremosphere characters around the park, although not aimed to be very scary they should be a great warm-up for the scare mazes.
Scarefest Top Tip
: If you are certain you will be doing the paid scaremazes before your visit, then consider pre-booking your tickets on the
official Alton Towers Scarefest
site for discounts
Eating and Drinking:
Plan well – if you are staying all day its a long day! Alton Towers do offer an all day dining plan which enables users to have pretty much ultimate food and drink from Alton Towers venues – but it can work out expensive, so weigh up the cost against how much you can spend.
As the day is long and chilly you'll probably want to eat indoors; all of the following offer indoor seating.
Many of the restaurants around the park offer special menus during Scarefest , whether it be the 'Rollercoaster Devil Firecracker Pulled Pork Burger' at the Rollercoaster Restaurant, Vampire Steaks at Woodcutter's or the infamous green donuts, available at kiosks around the park. Hot drinks are available at most venues and are sure to warm you up a little bit too, especially when the evening starts to set in. We highly recommend the Spice Pumpkin Lattes at Corner Coffee!
Rides:
As mentioned earlier the dark is a great time to experience some of the rides, we highly recommend Wicker Man or The Smiler in the dark for their enhanced experience. Th13teen also offers an almost pitch black ride into nothingness while Nemesis is bathed in red light and feels even faster than normal.