The Courtyard Stage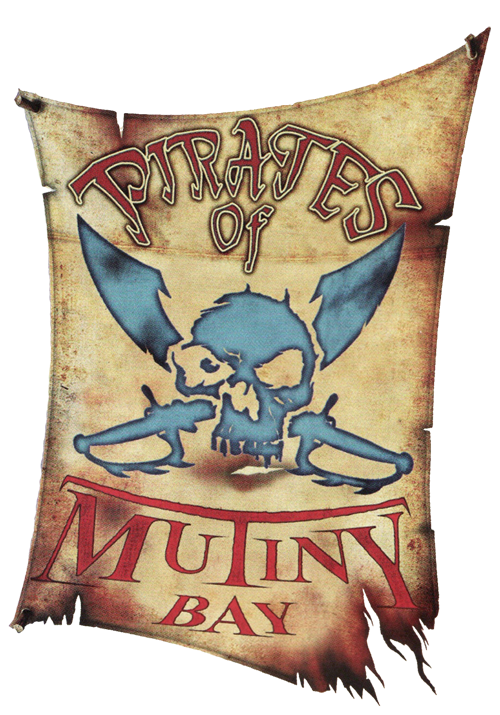 When Mutiny Bay opened in 2008, one corner of the existing Courtyard BBQ was transformed into an outdoor entertainment venue. The new stage allowed guests to enjoy a show whilst they ate, though if you didn't mind getting a little damp there were also several rows of seating around the stage.
In the early years visiting pop acts would occasionally take advantage of the stage, though its main use was for the presentation of the various incarnations of the Pirates Of Mutiny Bay show.
The tales told by the Pirates of Mutiny Bay would change on a year by year basis but the plot of the show would normally involve a motley crew of pirates embarking on a quest to find some sort of relic. Each show was filled with slapstick, mild jeopardy as well as a range of familiar set pieces such as the piranha barrel and various fire effects built into the skull shaped set. The action was broken up by musical numbers, which were bespoke shanties in the earlier shows but were eventually replaced by pirate pop parodies
The Pirates of Mutiny Bay performed in the courtyard for the final time at the end of 2015, before the stage was shuttered as part of the park's TLC scheme. In 2017 it was announced that the stage would be removed the following season as part of the development of the new Smoke House restaurant.
But the story didn't end there... as it later emerged that the stage and props of the pirate show would be used one last time as part of The Welcoming scare maze during 2017's Scarefest.
The Smoke House restaurant plans were later shelved, meaning the courtyard stage had a brief reprieve from the wrecking ball but it was eventually removed early in 2020.
And as for the pirates themselves, whilst they moved out of the Courtyard in 2015 their shows live on in the Alton Towers Hotel once a year as part of the resort's Pirates and Princesses February Half Term event.